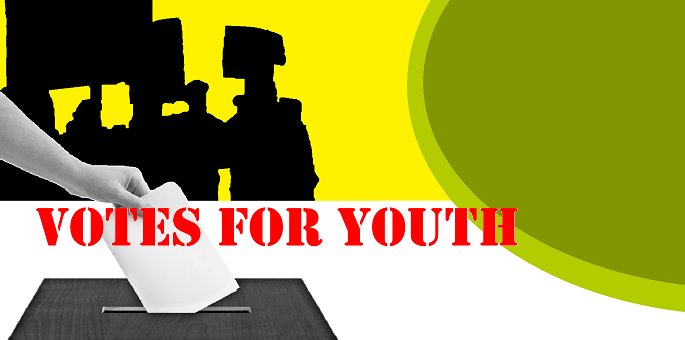 2012 will mark a milestone for youth rights activism:  supporters of all ages are engaging in an effort to empower youth by lowering the voting age. The "Votes for Youth" campaign gives voice to youth who are fed-up with having no say in electing the leaders who claim to represent them. They have strongly held beliefs on domestic and foreign policy issues that should not be ignored. They know that, without the right to vote, meaningful change cannot be protected from the whims of politicians with their own agendas.  Youth know that lowering the voting age will enable them to make a difference to improve the country they love.
What is "Votes for Youth"? It's Americans, young and old, protesting to give youth the right to vote, that most precious right of democracy that so many adults take for granted and fail to exercise.
It's people of all ages spreading the news by all means available that youth want and need the right to vote and they will gain the right to vote: uploading videos, blogging, tweeting, contacting local, state and national leaders, writing letters to the editors, and growing a network of supporters.
This movement will achieve big things, but it will require your support. Here's what you can do to help it grow:
Join our Votes for Youth Facebook group.
Find a protest in your area and spread the word to your entire social network.
Come to the October 12 DC rally.
Use a "Votes for Youth" image as your Facebook or Twitter profile pic.
Create a video explaining why youth need the right to vote. Then upload it to http://www.mediafire.com/ and send the link to nyra@youthrights.org. NYRA will choose the best ones to add to NYRA's youtube.com channel and its special "Votes for Youth" playlist.
Send a Facebook message or tweet to all of your friends (include the link to NYRA or the "Votes for Youth" page)
Blog about the "Votes for Youth" movement on youth sites, political sites, and news sites
Write a "Letter to the Editor" to your local newspaper
Contact your local city council member, state legislator, or member of Congress and let them know the voting age must be lowered.
Working together, we can achieve great things in 2012. This is our moment. Let's make it happen!