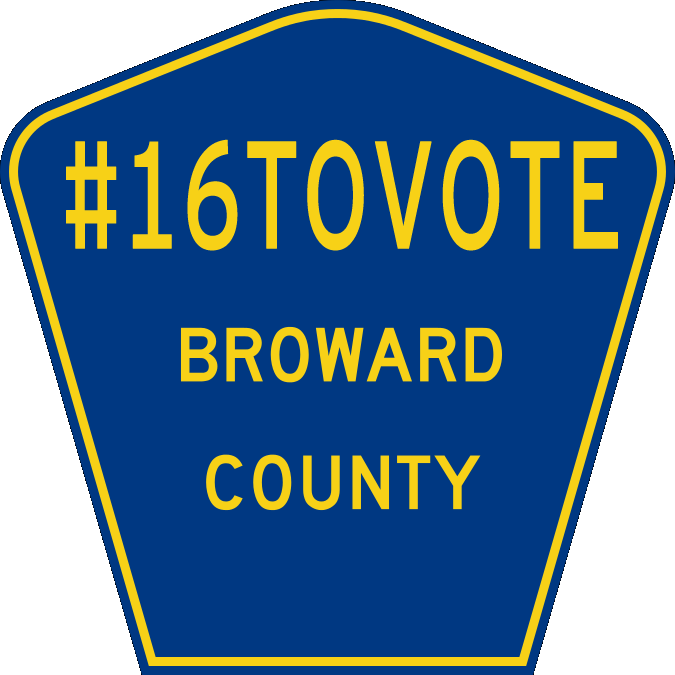 When Hyattsville, MD lowered its voting age on January 6th, 2015- I was thrilled. It was my birthday, and the news brought joy to my heart. For so long, I was waiting for some organization or person to take the lead in the fight for youth suffrage. Hyattsville became the second city in the United States to lower the voting age. In April of that year I came back from Washington D.C. with a bright idea. I had been lobbying for an organization, meeting members of congress, judges, and politicians. Meeting Americans was a very interesting thing.
Later I decided that it was time to make Broward County the third municipality to lower it's voting age. In April, I went to Broward County Commission, and asked them to lower the voting age to sixteen in our county. We live in a county with a population of nearly 2 million. There are about 400, 000 young Americans who can't legally vote living in our county. Generally, I received a lot of positive feedback from the County Commissioners. One of them has been very beneficial to the process. Dale Holness, from District 9, has helped me push my agenda a little further. He has spoke in favor of it, has consulted with legal professionals and his peers on the commission.
Since then, I've been back and forth to the offices of these commissioners, lobbying, doing everything I could do to influence their support or excitement about this. The former Mayor, Tim Ryan has been somewhat helpful, but has remained neutral and has released no public statement of support. However, the new Mayor Marty Kiar seems to be supportive. After speaking with Commissioner Holness, he recommended that one day, I pack the commission chambers with students. He stated that this would not only get the attention of the commissioners and meeting attendants, but the thousands of people watching via Television. He also recommended that I send letters, make public appearances and speeches, release op-eds, and consult with my peers. I've done just that.
One night I received a phone call from a high source who works aside the commission. Our hard work had paid off temporarily. The news was that five out of the nine commissioners would support the resolution. This brought so much comfort and relief to me. The only issue was, there's one member who is leaning a little bit away from the resolution. This has prevented the commission from setting a date for voting.

The most recent news was acquired by me this week. I was invited back, to speak before the commission on January 12th, 2015. I will not only skip school to attend at 10-am, but I'm bringing my peers with me. The recommendation to pack the commission chambers with students will be taken. I am hoping that the County Commission announce what's next, as they have not responded to my requests for information in the last few months.
We are so close to making history. Not only will the voting age be lowered, but the County will establish a Youth Commission (which includes 9 Youth Commissioners and a Youth Mayor). Visit Broward.org to watch the commission meeting on that date. I will present my case and so will other students who are passionate about this issue. This struggle started when one commissioner refused to state whether he/she will support this resolution. So basically, we've gotten so far, but we need plenty of support to continue.
We're using all of our time, resources, money, and support. 2016 is an election year for the commissioners, so they're looking to support anything controversial that would help them in anyway. Dale Holness has been very instrumental in the fight for progress in Broward County. He's pro-youth, he listens to young people, and represents his district and community with honor and courage. Just fighting to get one commissioner to support this seemed hard, but Mr. Holness stood up and sided with youth.
We cordially ask all pro-youth rights supporters, NYRA, and all in support of #16tovote to use the hashtag #Broward16 to show support and solidarity with us. I am hoping you'll join me on this journey. We've come a long way, but the light is near.
Elijah Manley
#YouthRights
NYRA-Broward County