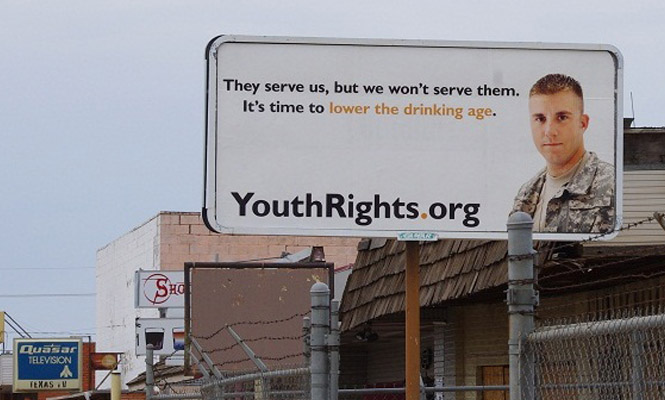 One of the most brutal hypocrisies of ageism manifests itself during times of war when we ask young men and women to put their lives on the line for the defense of freedom either here or abroad. This noble notion turns foul when we realize how many of America's soldiers lack the very freedom they risk their lives for and remain second class citizens. Anti-youth politicians disrespect individuals under 21 by calling them immature children, incapable of being trusted with the right to drink legally. These young people under 21 are not immature children; they are proud American soldiers, many of whom have paid the ultimate sacrifice. Below is a list of 962 people who died in Iraq and Afghanistan, and never had the chance to live in an America that treated them as equals.
While many may not object to the disrespect, discrimination and dishonor our drinking age inflicts upon young people, we at NYRA believe we should respect our fallen countrymen, not just with this list, but also with a commitment to right the wrong of the injustice that treats them as children yet asks them to defend us.
NYRA calls on all Americans to support our troops, to respect our troops, and to stop discriminating against our troops and all young Americans. We maintain this list in honor of their sacrifice and in their memory. Thank you to Afghanistan veteran Spc. Robert Bertoniere for compiling the original list.
Operation Enduring Freedom
October 2001 – May 2011
| | | | | |
| --- | --- | --- | --- | --- |
| | Rank | Name | Age | Date |
| 1 . | Private 1st Class | Thomas, Kristofer D. S. | 18 | 2/18/2007 |
| 2 . | Private 1st Class | Deysie, Ara T. | 18 | 5/9/2008 |
| 3 . | Private | Dinterman, Michael R. | 18 | 9/6/2008 |
| 4 . | Private | Gonzales, Joseph F. | 18 | 9/20/2008 |
| 5 . | Specialist | Bertrand, Cory J. | 18 | 10/14/2008 |
| 6 . | Private 1st Class | Wildes, Matthew Everett | 18 | 8/27/2009 |
| 7 . | Private 1st Class | Suter, Jake W. | 18 | 5/29/2010 |
| 8 . | Private 1st Class | Wood, Edwin C. | 18 | 7/5/2010 |
| 9 . | Private 1st Class | Holder, Kyle M. | 18 | 11/17/2010 |
| 10 . | Private | Maria, Giovanny | 19 | 11/29/2001 |
| 11 . | Private | Ebbers, James H. | 19 | 10/14/2002 |
| 12 . | Specialist | Clemens, Brian Michael | 19 | 2/7/2003 |
| 13 . | Private 1st Class | McNeil, Spence A. | 19 | 3/8/2003 |
| 14 . | Private 1st Class | Dillon Jr., James R. | 19 | 3/13/2003 |
| 15 . | Private | Dennis, Jerod R. | 19 | 4/25/2003 |
| 16 . | Private 1st Class | O'Neill, Evan W. | 19 | 9/29/2003 |
| 17 . | Private 1st Class | Wadman, Brandon James | 19 | 5/5/2004 |
| 18 . | Lance Corporal | White, Russell P. | 19 | 6/20/2004 |
| 19 . | Private 1st Class | McClenney, Daniel B. | 19 | 6/24/2004 |
| 20 . | Corporal | Tucker, Steven Charles | 19 | 5/21/2005 |
| 21 . | Lance Corporal | Joyce, Kevin B. | 19 | 6/25/2005 |
| 22 . | Private 1st Class | Garza, Damian J. | 19 | 8/4/2005 |
| 23 . | Private 1st Class | Franklin, Benny S. | 19 | 10/7/2005 |
| 24 . | Private | Moquin Jr., Brian M. | 19 | 5/5/2006 |
| 25 . | Private 1st Class | Davis, Justin R. | 19 | 6/25/2006 |
| 26 . | Private 1st Class | Small, Andrew | 19 | 8/11/2006 |
| 27 . | Private 1st Class | White, Jr., James P. | 19 | 8/11/2006 |
| 28 . | Private 1st Class | Oceguera, Alex | 19 | 10/31/2006 |
| 29 . | Sergeant | Hughie, Buddy J. | 19 | 2/19/2007 |
| 30 . | Private 1st Class | Johns, Jason D. | 19 | 2/21/2007 |
| 31 . | Specialist | Gutierrez, Agustin | 19 | 3/28/2007 |
| 32 . | Private 1st Class | Harris, Joseph G. | 19 | 5/3/2007 |
| 33 . | Private 1st Class | Vimoto, Timothy R. | 19 | 6/5/2007 |
| 34 . | Private 1st Class | Davis, Adam J. | 19 | 7/23/2007 |
| 35 . | Private 1st Class | Miller, Mykel F. | 19 | 9/6/2007 |
| 36 . | Private | Shields, Andrew J. | 19 | 5/31/2008 |
| 37 . | Private 1st Class | Patton, Michael Robert | 19 | 6/14/2008 |
| 38 . | Hospitalman | Retmier, Marc A. | 19 | 6/18/2008 |
| 39 . | Hospitalman | Burnett, Dustin Kelby | 19 | 6/20/2008 |
| 40 . | Lance Corporal | Lopez-Castaneda, Juan | 19 | 8/14/2008 |
| 41 . | Private | Meadows III, Colman J. | 19 | 12/16/2008 |
| 42 . | Lance Corporal | Cassada, Jessie A. | 19 | 1/6/2009 |
| 43 . | Private 1st Class | Watson, Jason R. | 19 | 2/10/2009 |
| 44 . | Private 1st Class | Hardt, Adam J. | 19 | 3/22/2009 |
| 45 . | Private 1st Class | Wilson, Matthew W. | 19 | 6/1/2009 |
| 46 . | Private | Drees, Steven T. | 19 | 6/28/2009 |
| 47 . | Private 1st Class | Casillas, Justin A. | 19 | 7/4/2009 |
| 48 . | Sergeant | Smith, Gerrick David | 19 | 7/29/2009 |
| 49 . | Private | Fitzgibbon, Patrick Scott | 19 | 8/1/2009 |
| 50 . | Private 1st Class | Hario, Eric W | 19 | 8/29/2009 |
| 51 . | Specialist | Welch, Jonathan D. | 19 | 8/31/2009 |
| 52 . | Lance Corporal | Baltazar Jr., Christopher S. | 19 | 9/3/2009 |
| 53 . | Private 1st Class | Styer, Brandon M. | 19 | 10/15/2009 |
| 54 . | Private 1st Class | Michel, Devin J. | 19 | 10/25/2009 |
| 55 . | Private 1st Class | Tynes, Marcus A. | 19 | 11/22/2009 |
| 56 . | Private | Dion, John P. | 19 | 1/3/2010 |
| 57 . | Specialist | Donevski, Robert | 19 | 1/16/2010 |
| 58 . | Lance Corporal | Smith, Zachary D. | 19 | 1/24/2010 |
| 59 . | Specialist | Decoteau, Marc Paul | 19 | 1/29/2010 |
| 60 . | Lance Corporal | Dunn, Kielin T. | 19 | 2/18/2010 |
| 61 . | Not yet reported | Johnson, Larry M. | 19 | 2/18/2010 |
| 62 . | Lance Corporal | Ward, Eric L. | 19 | 2/21/2010 |
| 63 . | Lance Corporal | Aragon, Carlos A. | 19 | 3/1/2010 |
| 64 . | Private | Cook, Nicholas S. | 19 | 3/7/2010 |
| 65 . | Lance Corporal | Ross, Jacob A. | 19 | 3/24/2010 |
| 66 . | Lance Corporal | Centanni, Rick. J. | 19 | 3/24/2010 |
| 67 . | Lance Corporal | Griffin, Tyler O. | 19 | 4/1/2010 |
| 68 . | Airman 1st Class | Benson, Austin H. Gates | 19 | 5/3/2010 |
| 69 . | Lance Corporal | Davis, Joshua M. | 19 | 5/7/2010 |
| 70 . | Lance Corporal | Clark, Philip P. | 19 | 5/18/2010 |
| 71 . | Private 1st Class | Miller, David T. | 19 | 6/21/2010 |
| 72 . | Specialist | Thompson, Blair D. | 19 | 6/25/2010 |
| 73 . | Specialist | Cooper, Keenan A. | 19 | 7/5/2010 |
| 74 . | Private 1st Class | Pridham, Michael S. | 19 | 7/6/2010 |
| 75 . | Private 1st Class | Andrade, John E. | 19 | 8/7/2010 |
| 76 . | Private 1st Class | Gammone III, Vincent E. | 19 | 8/7/2010 |
| 77 . | Lance Corporal | Childers, Cody S. | 19 | 8/20/2010 |
| 78 . | Lance Corporal | Schultz, Nathaniel J. A. | 19 | 8/21/2010 |
| 79 . | Private 1st Class | Ose, Joshua S. | 19 | 9/20/2010 |
| 80 . | Private 1st Class | Petree, Jaysine P. S. | 19 | 9/24/2010 |
| 81 . | Private 1st Class | Board, Cody A. | 19 | 10/4/2010 |
| 82 . | Lance Corporal | Vinnedge, Phillip D. | 19 | 10/13/2010 |
| 83 . | Not yet reported | Byrd, Jordan | 19 | 10/13/2010 |
| 84 . | Lance Corporal | Catherwood, Alec E. | 19 | 10/14/2010 |
| 85 . | Specialist | Jenkins, Gerald R. | 19 | 10/20/2010 |
| 86 . | Specialist | Pallares, Ronnie J. | 19 | 10/23/2010 |
| 87 . | Lance Corporal | Honeycutt Jr., Terry E. | 19 | 10/27/2010 |
| 88 . | Lance Corporal | Huse, Dakota R. | 19 | 11/9/2010 |
| 89 . | Private 1st Class | Warriner, Christian M. | 19 | 11/14/2010 |
| 90 . | Lance Corporal | Buenagua, Ardenjoseph A. | 19 | 11/24/2010 |
| 91 . | Private 1st Class | Staggs, Austin G. | 19 | 11/29/2010 |
| 92 . | Lance Corporal | Hernandez, Jose A. | 19 | 12/14/2010 |
| 93 . | Private 1st Class | Javier Jr., Conrado D. | 19 | 12/19/2010 |
| 94 . | Private 1st Class | Johnson, Kalin C. | 19 | 3/8/2011 |
| 95 . | Not reported yet | Harper, Andrew M. | 19 | 3/11/2011 |
| 96 . | Private First Class | Rodriguez, Arturo E. | 19 | 3/12/2011 |
| 97 . | Private 1st Class | Acosta, Rudy A. | 19 | 3/19/2011 |
| 98 . | Private 1st Class | Kihm, John F. | 19 | 4/20/2011 |
| 99 . | Lance Corporal | Ciaramitaro, Dominic J. | 19 | 4/23/2011 |
| 100 . | Private 1st Class | Villanueva, Jonathan M. | 19 | 4/27/2011 |
| 101 . | Private 1st Class | Nunn, Anthony M. | 19 | 5/30/2011 |
| 102 . | Specialist | Edmunds, Jonn Joseph | 20 | 10/19/2001 |
| 103 . | Machinist's Mate Fireman | Davis, Bryant L. | 20 | 11/7/2001 |
| 104 . | Electrician's Mate Fireman | Jakes Jr., Michael J. | 20 | 12/4/2001 |
| 105 . | Lance Corporal | Sledd, Antonio J. | 20 | 10/8/2002 |
| 106 . | Specialist | Hickey, Julie R. | 20 | 7/4/2004 |
| 107 . | Specialist | Freeman, Daniel J. | 20 | 4/6/2005 |
| 108 . | Specialist | Struble, Sascha | 20 | 4/6/2005 |
| 109 . | Specialist | Hall, Blake W. | 20 | 8/21/2005 |
| 110 . | Lance Corporal | Valdez, Steven A. | 20 | 9/26/2005 |
| 111 . | Private 1st Class | Bertolino, Matthew L. | 20 | 2/9/2006 |
| 112 . | Lance Corporal | Sovie, Nicholas J. | 20 | 2/17/2006 |
| 113 . | Corporal | Stanley, Derek A. | 20 | 6/5/2006 |
| 114 . | Private | Bailey, Michael V. | 20 | 10/27/2006 |
| 115 . | Corporal | Lewis, Timothy D. | 20 | 2/15/2007 |
| 116 . | Private 1st Class | Garbs, Ryan C. | 20 | 2/18/2007 |
| 117 . | Specialist | Mehringer, Daniel F. | 20 | 4/28/2007 |
| 118 . | Private 1st Class | Restrepo, Juan S. | 20 | 7/22/2007 |
| 119 . | Private 1st Class | Rogers, Jessy S. | 20 | 7/23/2007 |
| 120 . | Private 1st Class | Robinson, Antione V. | 20 | 3/19/2008 |
| 121 . | Private | Brown, Matthew W. | 20 | 5/11/2008 |
| 122 . | Private 1st Class | Holland, Derek D. | 20 | 6/3/2008 |
| 123 . | Private 1st Class | McNair Jr., Andre D. | 20 | 6/5/2008 |
| 124 . | Sergeant | Washington, Michael Toussiant-Hyle | 20 | 6/14/2008 |
| 125 . | Corporal | Zwilling, Gunnar W. | 20 | 7/13/2008 |
| 126 . | Specialist | Mulvihill, William J. | 20 | 8/1/2008 |
| 127 . | Private 1st Class | Luscher, Jonathan L. | 20 | 8/17/2008 |
| 128 . | Private | Ngo, Tan Q. | 20 | 8/27/2008 |
| 129 . | Corporal | Karella, Jason A. | 20 | 10/9/2008 |
| 130 . | Specialist | Essary, Keith Eric | 20 | 1/8/2009 |
| 131 . | Airman 1st Class | Ramsey, Jacob I. | 20 | 4/10/2009 |
| 132 . | Specialist | Griemel, Jarrett P. | 20 | 6/3/2009 |
| 133 . | Lance Corporal | Whittle, Joshua R. | 20 | 6/6/2009 |
| 134 . | Private 1st Class | Cross, Peter K. | 20 | 6/26/2009 |
| 135 . | Lance Corporal | Sharp, Charles S. | 20 | 7/2/2009 |
| 136 . | Private 1st Class | Fairbairn, Aaron E. | 20 | 7/4/2009 |
| 137 . | Private 1st Class | Gideon, Nicolas H. J. | 20 | 7/6/2009 |
| 138 . | Lance Corporal | Hager, Roger Gary Michael | 20 | 7/8/2009 |
| 139 . | Specialist | Lightfoot, Anthony Marquis | 20 | 7/20/2009 |
| 140 . | Lance Corporal | Stroud, Jonathan Fulton | 20 | 7/30/2009 |
| 141 . | Lance Corporal | Babine, Travis Thornton | 20 | 8/6/2009 |
| 142 . | Specialist | Swanson, Matthew Kalen Samue | 20 | 8/8/2009 |
| 143 . | Lance Corporal | Olvera, Javier | 20 | 8/8/2009 |
| 144 . | Private 1st Class | Yanney, Jonathan Christopher | 20 | 8/18/2009 |
| 145 . | Lance Corporal | Hogan, Donald James | 20 | 8/26/2009 |
| 146 . | Private 1st Class | Brochu, Jordan M. | 20 | 8/31/2009 |
| 147 . | Lance Corporal | Fowlkes, Christopher S. | 20 | 9/10/2009 |
| 148 . | Private 1st Class | Martinek, Matthew M. | 20 | 9/11/2009 |
| 149 . | Specialist | Void, Demetrius L. | 20 | 9/15/2009 |
| 150 . | Specialist | Kowall, Corey J. | 20 | 9/20/2009 |
| 151 . | Lance Corporal | Ochoa Jr., Alfonso | 20 | 10/10/2009 |
| 152 . | Private 1st Class | Bates, Jr. Brian R. | 20 | 10/27/2009 |
| 153 . | Lance Corporal | Hand, Nicholas J. | 20 | 11/22/2009 |
| 154 . | Lance Corporal | Meinert, Jacob A. | 20 | 1/10/2010 |
| 155 . | Staff Sergeant | Ingham, Matthew N. | 20 | 1/11/2010 |
| 156 . | Private 1st Class | Lovejoy, Zachary G. | 20 | 2/2/2010 |
| 157 . | Private 1st Class | Coutu, Kyle J. | 20 | 2/18/2010 |
| 158 . | Lance Corporal | Hanson, Matthias N. | 20 | 2/21/2010 |
| 159 . | Lance Corporal | Gamble, Garrett W. | 20 | 3/11/2010 |
| 160 . | Lance Corporal | Heck, Randy M. | 20 | 3/28/2010 |
| 161 . | Lance Corporal | Swenson, Curtis M. | 20 | 4/2/2010 |
| 162 . | Specialist | Brown, Jeremy L. | 20 | 5/10/2010 |
| 163 . | Private 1st Class | Anderson, Billy G. | 20 | 5/17/2010 |
| 164 . | Lance Corporal | Dilisio, Anthony A. | 20 | 5/30/2010 |
| 165 . | Lance Corporal | Hernandez, Derek | 20 | 6/6/2010 |
| 166 . | Private 1st Class | Repkie, Robert K. L. | 20 | 6/24/2010 |
| 167 . | Lance Corporal | Richards, William T. | 20 | 6/26/2010 |
| 168 . | Specialist | Hennigan, Matthew R. | 20 | 6/30/2010 |
| 169 . | Specialist | McGarrah, Clayton D. | 20 | 7/3/2010 |
| 170 . | Specialist | Osborne, Jerod H. | 20 | 7/5/2010 |
| 171 . | Lance Corporal | Roads, Tyler A. | 20 | 7/10/2010 |
| 172 . | Private 1st Class | Garvin, Nathaniel D. | 20 | 7/12/2010 |
| 173 . | Specialist | Moon, Christopher J. | 20 | 7/13/2010 |
| 174 . | Private 1st Class | Oquin, James J. | 20 | 7/23/2010 |
| 175 . | Lance Corporal | Vazquez, Frederik E. | 20 | 7/24/2010 |
| 176 . | Lance Corporal | Cornelius, Kevin M. | 20 | 8/7/2010 |
| 177 . | Private 1st Class | Maldonado, Alexis V. | 20 | 8/21/2010 |
| 178 . | Specialist | Meletiche, Pedro A. Millet | 20 | 8/22/2010 |
| 179 . | Private 1st Class | Coleman, Chad D. | 20 | 8/27/2010 |
| 180 . | Private | Novak, Adam J. | 20 | 8/27/2010 |
| 181 . | Petty Officer 3rd Class | Swink, James Michael | 20 | 8/27/2010 |
| 182 . | Specialist | Castro, Andrew J. | 20 | 8/28/2010 |
| 183 . | Private 1st Class | Raver, Bryn T. | 20 | 8/29/2010 |
| 184 . | Sergeant | Alcaraz, Raymond C. | 20 | 8/31/2010 |
| 185 . | Lance Corporal | Rodgers, Christopher B. | 20 | 9/1/2010 |
| 186 . | Private 1st Class | Montoya, Diego M. | 20 | 9/2/2010 |
| 187 . | Lance Corporal | Rosa, Anthony J. | 20 | 9/23/2010 |
| 188 . | Private 1st Class | Dawson, William Brandon | 20 | 9/24/2010 |
| 189 . | Lance Corporal | Fabbri, Ralph J. | 20 | 9/28/2010 |
| 190 . | Specialist | Prentler, Joseph T. | 20 | 10/4/2010 |
| 191 . | Specialist | Powell, Matthew C. | 20 | 10/12/2010 |
| 192 . | Private 1st Class | Dew, Victor A. | 20 | 10/13/2010 |
| 193 . | Private 1st Class | Billingsley, Tramaine J. | 20 | 10/14/2010 |
| 194 . | Specialist | Dupont, Steven L. | 20 | 10/24/2010 |
| 195 . | Specialist | Maldonado, Pedro A. | 20 | 10/29/2010 |
| 196 . | Specialist | Hutchins, Andrew | 20 | 11/8/2010 |
| 197 . | Lance Corporal | Stack, James B. | 20 | 11/10/2010 |
| 198 . | Specialist | Carroll, Jacob C. | 20 | 11/13/2010 |
| 199 . | Corporal | Carver, Jacob R. | 20 | 11/13/2010 |
| 200 . | Specialist | Ramsey, Matthew W. | 20 | 11/29/2010 |
| 201 . | Lance Corporal | Scott, Lucas C. | 20 | 12/3/2010 |
| 202 . | Private 1st Class | Rusk, Colton W. | 20 | 12/6/2010 |
| 203 . | Lance Corporal | Geary, Michael E. | 20 | 12/8/2010 |
| 204 . | Lance Corporal | Htaik, Maung P. | 20 | 1/1/2011 |
| 205 . | Specialist | King, Jarrid L. | 20 | 1/12/2011 |
| 206 . | Corporal | Stanton, Jordan R. | 20 | 3/4/2011 |
| 207 . | Corporal | Buffalo, Loren M. | 20 | 3/9/2011 |
| 208 . | Lance Corporal | Meis, Christopher S. | 20 | 3/17/2011 |
| 209 . | Private 1st Class | Feldhaus, Dustin J. | 20 | 3/29/2011 |
| 210 . | Private | Krippner, Andrew M. | 20 | 5/23/2011 |
Operation Iraqi Freedom
March 2003 – May 2011
| | | | | |
| --- | --- | --- | --- | --- |
| | Rank | Name | Age | Date |
| 1 . | Private | Estrella-Soto, Ruben | 18 | 3/23/2003 |
| 2 . | Lance Corporal | Aviles, Andrew Julian | 18 | 4/7/2003 |
| 3 . | Private | Evans Jr., David | 18 | 5/25/2003 |
| 4 . | Lance Corporal | Geurin, Cory Ryan | 18 | 7/15/2003 |
| 5 . | Private 1st Class | Parker, Daniel R. | 18 | 8/12/2003 |
| 6 . | Private 1st Class | Sims, Charles M. | 18 | 10/3/2003 |
| 7 . | Specialist | Mihalakis, Michael G. | 18 | 12/26/2003 |
| 8 . | Private 1st Class | Milczark, Matthew G. | 18 | 3/8/2004 |
| 9 . | Private 1st Class | Sekula, Dustin M. | 18 | 4/1/2004 |
| 10 . | Lance Corporal | Cherry, Marcus M. | 18 | 4/6/2004 |
| 11 . | Lance Corporal | Roberts, Anthony P. | 18 | 4/6/2004 |
| 12 . | Lance Corporal | Crowley, Kyle D. | 18 | 4/6/2004 |
| 13 . | Private 1st Class | Jerabek, Ryan M. | 18 | 4/6/2004 |
| 14 . | Private 1st Class | Kritzer, Bradley G. | 18 | 5/5/2004 |
| 15 . | Private 1st Class | Jackson, Leslie D. | 18 | 5/20/2004 |
| 16 . | Private 1st Class | Huff, Sam W. | 18 | 4/18/2005 |
| 17 . | Private 1st Class | Dixon, Christopher R. | 18 | 5/11/2005 |
| 18 . | Lance Corporal | Flores, Jonathan R. | 18 | 6/15/2005 |
| 19 . | Private 1st Class | Kilpatrick, Christopher R. | 18 | 6/20/2005 |
| 20 . | Lance Corporal | Escobar, Sergio H. | 18 | 10/8/2005 |
| 21 . | Private 1st Class | Wagler, Peter D. | 18 | 1/23/2006 |
| 22 . | Private 1st Class | Snowberger III, Stephen P. | 18 | 5/11/2006 |
| 23 . | Lance Corporal | Long, Jeremy Z. | 18 | 8/10/2006 |
| 24 . | Private 1st Class | Wolfe, Colin Joseph | 18 | 8/30/2006 |
| 25 . | Private 1st Class | Shank, Jeremy R. | 18 | 9/6/2006 |
| 26 . | Private 1st Class | Franco, Jason | 18 | 10/31/2006 |
| 27 . | Specialist | Sieger, Eric R. | 18 | 2/1/2007 |
| 28 . | Private | Zeimer, Matthew T. | 18 | 2/2/2007 |
| 29 . | Private 1st Class | Walberg, Steven J. | 18 | 4/15/2007 |
| 30 . | Private 1st Class | Wilson, Le Ron A. | 18 | 7/6/2007 |
| 31 . | Private 1st Class | Kube, Christopher D. | 18 | 7/14/2007 |
| 32 . | Private | Bohannon, Jeremy S. | 18 | 8/5/2007 |
| 33 . | Private | Thacker, Nathan Z. | 18 | 10/12/2007 |
| 34 . | Specialist | Schmidt, Ronald Andrew | 18 | 8/3/2008 |
| 35 . | Specialist | Tobler, Brandon Scott | 19 | 3/22/2003 |
| 36 . | Private | Hutchings, Nolen Ryan | 19 | 3/23/2003 |
| 37 . | Private | Sloan, Brandon Ulysses | 19 | 3/23/2003 |
| 38 . | Specialist | Sanders, Gregory Paul | 19 | 3/24/2003 |
| 39 . | Private 1st Class | Rincon, Diego Fernando | 19 | 3/29/2003 |
| 40 . | Private 1st Class | Gurtner, Christian Daniel | 19 | 4/2/2003 |
| 41 . | Private | Jones, Devon Demilo | 19 | 4/4/2003 |
| 42 . | Private 1st Class | Huxley Jr., Gregory Paul | 19 | 4/6/2003 |
| 43 . | Private 1st Class | Miller, Anthony Scott | 19 | 4/7/2003 |
| 44 . | Lance Corporal | Lam, Alan Dinh | 19 | 4/22/2003 |
| 45 . | Private 1st Class | Rodriguez, Jose F. Gonzalez | 19 | 5/12/2003 |
| 46 . | Lance Corporal | Kleiboeker, Nicholas Brian | 19 | 5/13/2003 |
| 47 . | Private | Nalley, Kenneth A. | 19 | 5/26/2003 |
| 48 . | Private | Halling, Jesse M. | 19 | 6/7/2003 |
| 49 . | Private 1st Class | Cox, Ryan R. | 19 | 6/15/2003 |
| 50 . | Private | Frantz, Robert L. | 19 | 6/17/2003 |
| 51 . | Private 1st Class | Cheatham, Jonathan M. | 19 | 7/26/2003 |
| 52 . | Private 1st Class | Longstreth, Duane E. | 19 | 8/7/2003 |
| 53 . | Private 1st Class | Mack, Vorn J. | 19 | 8/23/2003 |
| 54 . | Private 1st Class | Manzano, Pablo | 19 | 8/25/2003 |
| 55 . | Private | Freeman, Benjamin L. | 19 | 10/13/2003 |
| 56 . | Private 1st Class | Wyatt, Stephen E. | 19 | 10/13/2003 |
| 57 . | Private 1st Class | Bueche, Paul J. | 19 | 10/21/2003 |
| 58 . | Private 1st Class | Acosta, Steven | 19 | 10/26/2003 |
| 59 . | Private 1st Class | Bosveld, Rachel K. | 19 | 10/26/2003 |
| 60 . | Private 1st Class | Whitener, Joey D. | 19 | 11/15/2003 |
| 61 . | Private 1st Class | Wright, Jason G. | 19 | 12/8/2003 |
| 62 . | Private 1st Class | Braun, Jeffrey F. | 19 | 12/12/2003 |
| 63 . | Specialist | Nakis, Nathan W. | 19 | 12/15/2003 |
| 64 . | Private 1st Class | Moreno, Luis A. | 19 | 1/29/2004 |
| 65 . | Private 1st Class | McGeogh, Holly J. | 19 | 1/31/2004 |
| 66 . | Private 1st Class | Ramirez, William C. | 19 | 2/11/2004 |
| 67 . | Private | Spry, Bryan N. | 19 | 2/14/2004 |
| 68 . | Private 1st Class | Frye, Nichole M. | 19 | 2/16/2004 |
| 69 . | Private | Kreider, Dustin L. | 19 | 3/21/2004 |
| 70 . | Private 1st Class | Strange, William R. | 19 | 4/2/2004 |
| 71 . | Private 1st Class | Morris, Geoffrey S. | 19 | 4/3/2004 |
| 72 . | Lance Corporal | Goldman, Shane Lee | 19 | 4/5/2004 |
| 73 . | Private 1st Class | Langhorst, Moises A. | 19 | 4/5/2004 |
| 74 . | Private 1st Class | Mabry, Christopher D. | 19 | 4/6/2004 |
| 75 . | Lance Corporal | Layfield, Travis J. | 19 | 4/6/2004 |
| 76 . | Private 1st Class | Cobb, Christopher R. | 19 | 4/6/2004 |
| 77 . | Private 1st Class | Phelps, Chance R. | 19 | 4/9/2004 |
| 78 . | Lance Corporal | Gray, Torrey L. | 19 | 4/11/2004 |
| 79 . | Specialist | Marshall, James E. | 19 | 5/5/2004 |
| 80 . | Private 1st Class | Cutter, Brian K. | 19 | 5/13/2004 |
| 81 . | Private 1st Class | Sturdy, Brandon C. | 19 | 5/13/2004 |
| 82 . | Private 1st Class | Mora, Michael A. | 19 | 5/14/2004 |
| 83 . | Private 1st Class | Unger, Daniel Paul | 19 | 5/25/2004 |
| 84 . | Lance Corporal | Codner, Kyle W. | 19 | 5/26/2004 |
| 85 . | Private 1st Class | Calavan, Cody S. | 19 | 5/29/2004 |
| 86 . | Private | Coleman, Bradli N. | 19 | 5/30/2004 |
| 87 . | Private 1st Class | Horn, Sean | 19 | 6/19/2004 |
| 88 . | Specialist | Emanuel IV, William River | 19 | 7/8/2004 |
| 89 . | Private 1st Class | Shondee Jr., Harry N. | 19 | 8/3/2004 |
| 90 . | Lance Corporal | Nice, Joseph L. | 19 | 8/4/2004 |
| 91 . | Lance Corporal | Collins, Jonathan W. | 19 | 8/8/2004 |
| 92 . | Private 1st Class | Hannon, Fernando B. | 19 | 8/15/2004 |
| 93 . | Lance Corporal | Huston, Seth | 19 | 8/21/2004 |
| 94 . | Specialist | Neeley, Charles L. | 19 | 8/25/2004 |
| 95 . | Specialist | Razani, Omead H. | 19 | 8/27/2004 |
| 96 . | Private 1st Class | Perez, Luis A. | 19 | 8/27/2004 |
| 97 . | Lance Corporal | Perez, Nicholas | 19 | 9/3/2004 |
| 98 . | Specialist | Garces, Tomas | 19 | 9/6/2004 |
| 99 . | Private 1st Class | Burridge, David Paul | 19 | 9/6/2004 |
| 100 . | Private 1st Class | Sparks, Jason L. | 19 | 9/8/2004 |
| 101 . | Lance Corporal | Puckett, Mathew D. | 19 | 9/13/2004 |
| 102 . | Lance Corporal | Brown, Dominic C. | 19 | 9/13/2004 |
| 103 . | Private 1st Class | Halverson, Andrew | 19 | 10/9/2004 |
| 104 . | Private 1st Class | Rusin, Aaron J. | 19 | 10/11/2004 |
| 105 . | Private 1st Class | Martinez, Oscar A. | 19 | 10/12/2004 |
| 106 . | Lance Corporal | Gonzalez, Victor A. | 19 | 10/13/2004 |
| 107 . | Private | Waters, David L. | 19 | 10/14/2004 |
| 108 . | Lance Corporal | Slocum, Richard Patrick | 19 | 10/24/2004 |
| 109 . | Private 1st Class | Lukac, John | 19 | 10/30/2004 |
| 110 . | Private 1st Class | Riedel, Andrew G. | 19 | 10/30/2004 |
| 111 . | Lance Corporal | Simpson, Abraham | 19 | 11/9/2004 |
| 112 . | Lance Corporal | Wood, Nathan R. | 19 | 11/9/2004 |
| 113 . | Lance Corporal | Larson, Nicholas D. | 19 | 11/9/2004 |
| 114 . | Lance Corporal | Anderson, Nicholas H. | 19 | 11/12/2004 |
| 115 . | Private 1st Class | Larsen, Cole W. | 19 | 11/13/2004 |
| 116 . | Lance Corporal | McLeese, Justin D. | 19 | 11/13/2004 |
| 117 . | Lance Corporal | Parker, Bradley L. | 19 | 11/15/2004 |
| 118 . | Lance Corporal | Desiato, Travis R. | 19 | 11/15/2004 |
| 119 . | Lance Corporal | West, Phillip G. | 19 | 11/19/2004 |
| 120 . | Lance Corporal | Winkler, Jordan D. | 19 | 11/26/2004 |
| 121 . | Lance Corporal | Lucero, Joshua E. | 19 | 11/27/2004 |
| 122 . | Private 1st Class | Ramsey, Joshua A. | 19 | 12/12/2004 |
| 123 . | Private 1st Class | Sanchez, Oscar | 19 | 12/29/2004 |
| 124 . | Lance Corporal | Parrello, Brian P. | 19 | 1/1/2005 |
| 125 . | Private 1st Class | Becker, Gunnar D. | 19 | 1/13/2005 |
| 126 . | Private 1st Class | Fonseca, Jesus | 19 | 1/17/2005 |
| 127 . | Lance Corporal | Redifer, Jason C. | 19 | 1/31/2005 |
| 128 . | Lance Corporal | Maher, Sean P. | 19 | 2/2/2005 |
| 129 . | Lance Corporal | Clifton, Richard C. | 19 | 2/3/2005 |
| 130 . | Lance Corporal | Perez Jr., Richard A. | 19 | 2/10/2005 |
| 131 . | Private | Giles, Landon S. | 19 | 2/26/2005 |
| 132 . | Private 1st Class | Lee, Samuel S. | 19 | 3/28/2005 |
| 133 . | Lance Corporal | Dengkhim, Tenzin | 19 | 4/2/2005 |
| 134 . | Private 1st Class | LaWare, Casey M. | 19 | 4/9/2005 |
| 135 . | Private | Cooper Jr., Charles S. | 19 | 4/29/2005 |
| 136 . | Private 1st Class | Baldwyn, Stephen P. | 19 | 5/9/2005 |
| 137 . | Private 1st Class | Riggs, Wesley R. | 19 | 5/17/2005 |
| 138 . | Corporal | French, Carrie L. | 19 | 6/5/2005 |
| 139 . | Lance Corporal | Maynard, Chad B. | 19 | 6/15/2005 |
| 140 . | Lance Corporal | Crumpler, Adam J. | 19 | 6/18/2005 |
| 141 . | Private | Johnson, Lavena L. | 19 | 7/19/2005 |
| 142 . | Private 1st Class | Villatoro Jr., Ramon A. | 19 | 7/24/2005 |
| 143 . | Lance Corporal | Dyer, Christopher Jenkins | 19 | 8/3/2005 |
| 144 . | Private 1st Class | Thompson, Nils George | 19 | 8/4/2005 |
| 145 . | Private 1st Class | Detample, Nathaniel E. "Nate" | 19 | 8/9/2005 |
| 146 . | Specialist | Dingler, Joshua P. | 19 | 8/15/2005 |
| 147 . | Private 1st Class | Romero, Ramon | 19 | 8/22/2005 |
| 148 . | Private | Ortega, Elijah M. | 19 | 9/26/2005 |
| 149 . | Private 1st Class | Brown, Oliver J. | 19 | 9/28/2005 |
| 150 . | Private 1st Class | Baez, Roberto C. | 19 | 10/3/2005 |
| 151 . | Private 1st Class | Bedard, Andrew D. | 19 | 10/4/2005 |
| 152 . | Private 1st Class | Frye, Jason L. | 19 | 10/6/2005 |
| 153 . | Lance Corporal | Cabino, Shayne M. | 19 | 10/6/2005 |
| 154 . | Lance Corporal | Bubb, Daniel Scott R. | 19 | 10/17/2005 |
| 155 . | Lance Corporal | Butler, Kenneth J. | 19 | 10/21/2005 |
| 156 . | Specialist | Monroe, Christopher T. | 19 | 10/25/2005 |
| 157 . | Private 1st Class | Reyes, Mario A. | 19 | 11/7/2005 |
| 158 . | Lance Corporal | Tamburello, Jeremy P. | 19 | 11/8/2005 |
| 159 . | Lance Corporal | Swaim, Daniel Freeman | 19 | 11/10/2005 |
| 160 . | Lance Corporal | Lucente, John A. "JT" | 19 | 11/16/2005 |
| 161 . | Private 1st Class | Gaunky, Anthony Alexander "Alex" | 19 | 11/18/2005 |
| 162 . | Lance Corporal | Patten, Andrew G. | 19 | 12/1/2005 |
| 163 . | Lance Corporal | Kaiser, Adam Wade | 19 | 12/1/2005 |
| 164 . | Specialist | Wright, Brian A. | 19 | 12/6/2005 |
| 165 . | Lance Corporal | Jacobs, Jeriad P. | 19 | 1/7/2006 |
| 166 . | Lance Corporal | Price, Jonathan Kyle | 19 | 1/13/2006 |
| 167 . | Private 1st Class | Chavez Jr., Javier | 19 | 2/9/2006 |
| 168 . | Private 1st Class | Duerksen, Amy A. | 19 | 3/11/2006 |
| 169 . | Private 1st Class | Zawaydeh, Angelo A. | 19 | 3/15/2006 |
| 170 . | Private 1st Class | Ehle, Jeremy W. | 19 | 4/2/2006 |
| 171 . | Private 1st Class | Edwards, Chase A. | 19 | 4/6/2006 |
| 172 . | Private | Missildine, Jody W. | 19 | 4/8/2006 |
| 173 . | Private 1st Class | Winslow, Ryan G. | 19 | 4/15/2006 |
| 174 . | Private | Zimmerman, Travis C. | 19 | 4/22/2006 |
| 175 . | Private | Bouthot, Michael E. | 19 | 4/22/2006 |
| 176 . | Lance Corporal | Ford, Michael L. | 19 | 4/26/2006 |
| 177 . | Private 1st Class | Eckhardt, Christopher M. | 19 | 5/3/2006 |
| 178 . | Lance Corporal | Deraps, Leon | 19 | 5/6/2006 |
| 179 . | Private 1st Class | Crombie, David N. | 19 | 6/7/2006 |
| 180 . | Lance Corporal | Zoucha, Brent | 19 | 6/9/2006 |
| 181 . | Private 1st Class | Gibbons, Devon J. | 19 | 6/23/2006 |
| 182 . | Specialist | Miller, Kyle | 19 | 6/29/2006 |
| 183 . | Corporal | Clark, Ryan. J. | 19 | 6/29/2006 |
| 184 . | Lance Corporal | Butterfield, Anthony E. | 19 | 7/29/2006 |
| 185 . | Private 1st Class | Arellano, James J. | 19 | 8/17/2006 |
| 186 . | Private 1st Class | Dolan, Dan | 19 | 8/27/2006 |
| 187 . | Private 1st Class | Madaras, Nicholas A. | 19 | 9/3/2006 |
| 188 . | Lance Corporal | Johnson, Philip A. | 19 | 9/3/2006 |
| 189 . | Private 1st Class | Seig, Anthony P. | 19 | 9/9/2006 |
| 190 . | Lance Corporal | Miller, Ryan A. | 19 | 9/14/2006 |
| 191 . | Private 1st Class | Blaney, Christopher T. | 19 | 9/29/2006 |
| 192 . | Lance Corporal | Garvin, Edward M. | 19 | 10/4/2006 |
| 193 . | Private 1st Class | Austin, Shane R. | 19 | 10/8/2006 |
| 194 . | Private 1st Class | Bicknell, Stephen | 19 | 10/15/2006 |
| 195 . | Private 1st Class | Brown, Donald S. | 19 | 10/25/2006 |
| 196 . | Lance Corporal | McCaughn, Ryan T. | 19 | 11/7/2006 |
| 197 . | Lance Corporal | Warren, Kristopher C. | 19 | 11/9/2006 |
| 198 . | Private 1st Class | Warner, Heath | 19 | 11/22/2006 |
| 199 . | Private | Moreno, Reece D. | 19 | 11/24/2006 |
| 200 . | Lance Corporal | Tillery, Jesse D. | 19 | 12/2/2006 |
| 201 . | Private | McGinnis, Ross A. | 19 | 12/4/2006 |
| 202 . | Lance Corporal | Palmer, Nick J. | 19 | 12/16/2006 |
| 203 . | Private 1st Class | Baines, Joe L. | 19 | 12/16/2006 |
| 204 . | Private 1st Class | Stanton, Seth M. | 19 | 12/17/2006 |
| 205 . | Lance Corporal | Tamayo, Fernando S. | 19 | 12/21/2006 |
| 206 . | Private 1st Class | Nelson, Andrew H. | 19 | 12/25/2006 |
| 207 . | Private 1st Class | Berg, Ryan R. | 19 | 1/9/2007 |
| 208 . | Specialist | Schockmel, Collin R. | 19 | 1/16/2007 |
| 209 . | Lance Corporal | Matus, Andrew G. | 19 | 1/21/2007 |
| 210 . | Private 1st Class | Toomalatai, David T. | 19 | 1/27/2007 |
| 211 . | Lance Corporal | Emul, Adam Q. | 19 | 1/29/2007 |
| 212 . | Private 1st Class | Hill, Tarryl B. | 19 | 2/7/2007 |
| 213 . | Lance Corporal | Morris, Daniel T. | 19 | 2/14/2007 |
| 214 . | Private | Youngblood, Kelly D. | 19 | 2/18/2007 |
| 215 . | Private 1st Class | Bowe, Matthew C. | 19 | 2/19/2007 |
| 216 . | Private 1st Class | Cleveland, Adare W. | 19 | 2/19/2007 |
| 217 . | Specialist | Kim, Louis G. | 19 | 2/20/2007 |
| 218 . | Private 1st Class | Kosters, Cory C. | 19 | 3/5/2007 |
| 219 . | Specialist | Smith, Jonathan K. | 19 | 3/11/2007 |
| 220 . | Lance Corporal | Holzhauer, Raymond J. | 19 | 3/15/2007 |
| 221 . | Private 1st Class | Marcial III, Miguel A. | 19 | 4/1/2007 |
| 222 . | Private 1st Class | Fuentes, Daniel A. | 19 | 4/6/2007 |
| 223 . | Private | Rodriguez, Damian Lopez | 19 | 4/6/2007 |
| 224 . | Private 1st Class | Borbonus, John G. | 19 | 4/12/2007 |
| 225 . | Private 1st Class | Langenbrunner, Richard P. | 19 | 4/17/2007 |
| 226 . | Private | Slater, Michael J. | 19 | 4/21/2007 |
| 227 . | Specialist | King, Jerry R. | 19 | 4/23/2007 |
| 228 . | Private 1st Class | Avery, Jeffrey A. | 19 | 4/23/2007 |
| 229 . | Private 1st Class | Botello, Brian A. | 19 | 4/29/2007 |
| 230 . | Private 1st Class | Soenksen, Katie M. | 19 | 5/2/2007 |
| 231 . | Corporal | Pursel, Michael A. | 19 | 5/6/2007 |
| 232 . | Private 1st Class | Courneya, Daniel | 19 | 5/12/2007 |
| 233 . | Private 1st Class | Gautier, Aaron D. | 19 | 5/17/2007 |
| 234 . | Specialist | Romero, Joshua G. | 19 | 5/18/2007 |
| 235 . | Private 1st Class | Varela, Alexander R. | 19 | 5/19/2007 |
| 236 . | Private 1st Class | Worthington, Robert A. | 19 | 5/22/2007 |
| 237 . | Specialist | Blodgett, Clinton C. | 19 | 5/26/2007 |
| 238 . | Private 1st Class | Hebert, Anthony D. | 19 | 6/21/2007 |
| 239 . | Specialist | Workman II, Dustin L. | 19 | 6/28/2007 |
| 240 . | Private 1st Class | Harrelson, James J. | 19 | 7/17/2007 |
| 241 . | Private 1st Class | Joshua Jr., Ron J. | 19 | 7/17/2007 |
| 242 . | Specialist | Clouser, Zachary | 19 | 7/18/2007 |
| 243 . | Specialist | Leckel, Daniel A. | 19 | 7/25/2007 |
| 244 . | Specialist | Rodriguez Jr., Jaime | 19 | 7/26/2007 |
| 245 . | Specialist | Long, Braden J. | 19 | 8/4/2007 |
| 246 . | Specialist | Young, Donald M. | 19 | 8/8/2007 |
| 247 . | Specialist | Virgadamo, Travis M. | 19 | 8/30/2007 |
| 248 . | Private 1st Class | Balcon, Dane R. | 19 | 9/5/2007 |
| 249 . | Specialist | Heredia, Marisol | 19 | 9/7/2007 |
| 250 . | Private 1st Class | Phillips, Sammie E. | 19 | 9/10/2007 |
| 251 . | Private 1st Class | Neff, Christian M. | 19 | 9/19/2007 |
| 252 . | Seaman Apprentice | Schnell, Shayna Ann | 19 | 10/1/2007 |
| 253 . | Seaman | Gresham, Genesia Mattril | 19 | 10/22/2007 |
| 254 . | Private | Carver, Cody M. | 19 | 10/30/2007 |
| 255 . | Private | Smith, Daren A. | 19 | 12/13/2007 |
| 256 . | Private 1st Class | McDaniel, Juctin R. P. | 19 | 12/17/2007 |
| 257 . | Private 1st Class | Merlo, Ivan E. | 19 | 1/8/2008 |
| 258 . | Private 1st Class | Crookston, Duncan Charles | 19 | 1/25/2008 |
| 259 . | Private 1st Class | Sweet, Jack T. | 19 | 2/8/2008 |
| 261 . | Specialist | O'Brien, William D. | 19 | 3/15/2008 |
| 262 . | Private 1st Class | Penley, Shane D. | 19 | 4/6/2008 |
| 263 . | Lance Corporal | Haerter, Jordan C. | 19 | 4/22/2008 |
| 264 . | Private 1st Class | Ward, Aaron J. | 19 | 5/6/2008 |
| 265 . | Private 1st Class | Waltenbaugh, Joshua E. | 19 | 6/3/2008 |
| 266 . | Private | Kanakaole, Eugene D. M. | 19 | 6/11/2008 |
| 267 . | Lance Corporal | Watters, Kelly E. C. | 19 | 6/11/2008 |
| 268 . | Lance Corporal | Perales Jr., Javier | 19 | 6/11/2008 |
| 269 . | Private | Fouty, Byron J. | 19 | 7/9/2008 |
| 270 . | Private 1st Class | McGuire, Daniel A. C. | 19 | 8/14/2008 |
| 271 . | Private 1st Class | Gulczynski I, Leonard J. | 19 | 9/17/2008 |
| 272 . | Private | Barnett, Charles Yi | 19 | 11/20/2008 |
| 273 . | Private 1st Class | Hinkefent, Coleman W. | 19 | 12/20/2008 |
| 274 . | Lance Corporal | Reilly Jr., Thomas | 19 | 12/21/2008 |
| 275 . | Specialist | Zapasnik, Stephen G. | 19 | 12/24/2008 |
| 276 . | Master-at-Arms Seaman | Seitz, Joshua D. | 19 | 12/25/2008 |
| 277 . | Private | Cotting, Grant A. | 19 | 1/24/2009 |
| 278 . | Private 1st Class | Walter, Cwislyn K. | 19 | 2/19/2009 |
| 279 . | Private 1st Class | Yates Jr., Michael Edward | 19 | 5/11/2009 |
| 280 . | Private | Iorio, Bradley W. | 19 | 5/29/2009 |
| 281 . | Private | Bregg, Lucas M. | 19 | 7/8/2009 |
| 282 . | Private | Wilhelm, Keiffer P. | 19 | 8/4/2009 |
| 283 . | Private | Marks, Taylor D. | 19 | 8/28/2009 |
| 284 . | Specialist | Avila, Adrian L. | 19 | 10/29/2009 |
| 285 . | Private 1st Class | Hurt, Gifford E. | 19 | 1/20/2010 |
| 286 . | Specialist | McBeth, Morganne M. | 19 | 7/2/2010 |
| 287 . | Private 1st Class | Mora Jr., Ramon | 19 | 5/22/2011 |
| 288 . | Lance Corporal | Buesing, Brian Rory | 20 | 3/23/2003 |
| 289 . | Corporal | Gonzalez, Jorge Alonso | 20 | 3/23/2003 |
| 290 . | Corporal | James, Evan Tyler | 20 | 3/24/2003 |
| 291 . | Lance Corporal | Suarez del Solar, Jesus Alberto | 20 | 3/27/2003 |
| 292 . | Lance Corporal | O'Day, Patrick Terence | 20 | 3/27/2003 |
| 293 . | Private 1st Class | Creighton-Weldon, Michael Russell | 20 | 3/29/2003 |
| 294 . | Specialist | Rowe, Brandon Jacob | 20 | 3/31/2003 |
| 295 . | Sergeant | Oaks Jr., Donald Samuel | 20 | 4/3/2003 |
| 296 . | Private 1st Class | Bales, Chad Eric | 20 | 4/3/2003 |
| 297 . | Private 1st Class | Bellard, Wilfred Davyrussell | 20 | 4/4/2003 |
| 298 . | Private 1st Class | Garza Jr., Juan Guadalupe | 20 | 4/8/2003 |
| 299 . | Lance Corporal | Owens Jr., David Edward | 20 | 4/12/2003 |
| 300 . | Corporal | Mileo, Jason David | 20 | 4/14/2003 |
| 301 . | Private 1st Class | Mayek, Joseph Patrick | 20 | 4/14/2003 |
| 302 . | Private | Deibler, Jason L. | 20 | 5/4/2003 |
| 303 . | Lance Corporal | Smith, Matthew R. | 20 | 5/10/2003 |
| 304 . | Specialist | Long, Zachariah W. | 20 | 5/30/2003 |
| 305 . | Specialist | Griffin, Kyle A. | 20 | 5/30/2003 |
| 306 . | Private 1st Class | Oberleitner, Branden F. | 20 | 6/5/2003 |
| 307 . | Private 1st Class | Neighbor, Gavin L. | 20 | 6/10/2003 |
| 308 . | Specialist | Hubbell, Corey A. | 20 | 6/26/2003 |
| 309 . | Corporal | Sotelo Jr., Tomas | 20 | 6/27/2003 |
| 310 . | Private 1st Class | Herrgott, Edward J. | 20 | 7/3/2003 |
| 311 . | Private 1st Class | Small, Corey L. | 20 | 7/3/2003 |
| 312 . | Lance Corporal | Tetrault, Jason | 20 | 7/9/2003 |
| 313 . | Specialist | Schultz, Christian C. | 20 | 7/11/2003 |
| 314 . | Specialist | Neusche, Joshua M. | 20 | 7/12/2003 |
| 315 . | Specialist | Bertoldie, Joel L. | 20 | 7/18/2003 |
| 316 . | Specialist | Hebert, Justin W. | 20 | 8/1/2003 |
| 317 . | Specialist | Letufuga, Farao K. | 20 | 8/5/2003 |
| 318 . | Specialist | Colunga, Zeferino E. | 20 | 8/6/2003 |
| 319 . | Private | Gilbert, Kyle C. | 20 | 8/6/2003 |
| 320 . | Private | Bush, Matthew D. | 20 | 8/8/2003 |
| 321 . | Private 1st Class | Adams, Michael S. | 20 | 8/21/2003 |
| 322 . | Private 1st Class | Sisson, Christopher A. | 20 | 9/2/2003 |
| 323 . | Specialist | Arriaga, Richard | 20 | 9/18/2003 |
| 324 . | Specialist | McGaugh, Dustin K. | 20 | 9/30/2003 |
| 325 . | Specialist | Karol, Spencer Timothy | 20 | 10/6/2003 |
| 326 . | Private 1st Class | Hart, John D. | 20 | 10/18/2003 |
| 327 . | Seaman | Cannon, Jakia Sheree | 20 | 10/25/2003 |
| 328 . | Private | Guerrera, Joseph R. | 20 | 10/26/2003 |
| 329 . | Private | Falaniko, Jonathan I. | 20 | 10/27/2003 |
| 330 . | Specialist | Vega, Frances M. | 20 | 11/2/2003 |
| 331 . | Private 1st Class | Lau, Karina S. | 20 | 11/2/2003 |
| 332 . | Private 1st Class | Dagostino, Anthony D. | 20 | 11/2/2003 |
| 333 . | Private 1st Class | Johnson, Rayshawn S. | 20 | 11/3/2003 |
| 334 . | Specialist | Benson, Robert T. | 20 | 11/4/2003 |
| 335 . | Sergeant | Goldberg, David J. | 20 | 11/26/2003 |
| 336 . | Specialist | Clark, Arron R. | 20 | 12/5/2003 |
| 337 . | Private 1st Class | Hutchinson, Ray J. | 20 | 12/7/2003 |
| 338 . | Sergeant | Bates, Todd M. | 20 | 12/10/2003 |
| 339 . | Specialist | Frist, Luke P. | 20 | 1/5/2004 |
| 340 . | Specialist | Polley Jr., Larry E. | 20 | 1/17/2004 |
| 341 . | Private 1st Class | Parker, James D. | 20 | 1/21/2004 |
| 342 . | Private 1st Class | Soriano, Armando | 20 | 2/1/2004 |
| 343 . | Specialist | Ling, Roger G. | 20 | 2/19/2004 |
| 344 . | Specialist | Brabazon, Edward W. | 20 | 3/9/2004 |
| 345 . | Specialist | Chan, Doron | 20 | 3/18/2004 |
| 346 . | Private 1st Class | Morris Jr., Ricky A. | 20 | 3/18/2004 |
| 347 . | Private 1st Class | Smith, Brandon C. | 20 | 3/18/2004 |
| 348 . | Lance Corporal | Dang, Andrew S. | 20 | 3/22/2004 |
| 349 . | Lance Corporal | Casper, James A. | 20 | 3/25/2004 |
| 350 . | Lance Corporal | Burgess, Jeffrey C. | 20 | 3/25/2004 |
| 351 . | Lance Corporal | Wiscowiche, William J. | 20 | 3/30/2004 |
| 352 . | Private | Davis, Brandon L. | 20 | 3/31/2004 |
| 353 . | Private 1st Class | Raney, Cleston C. | 20 | 3/31/2004 |
| 354 . | Private 1st Class | Amos II, John D. | 20 | 4/4/2004 |
| 355 . | Private 1st Class | Carman, Benjamin R. | 20 | 4/6/2004 |
| 356 . | Lance Corporal | Frank, Phillip E. | 20 | 4/8/2004 |
| 357 . | Lance Corporal | Wafford, Michael B. | 20 | 4/8/2004 |
| 358 . | Lance Corporal | Angell, Levi T. | 20 | 4/8/2004 |
| 359 . | Specialist | Nieves, Isaac Michael | 20 | 4/8/2004 |
| 360 . | Specialist | Vandayburg, Allen Jeffrey "A.J." | 20 | 4/9/2004 |
| 361 . | Specialist | Witmer, Michelle M. | 20 | 4/9/2004 |
| 362 . | Corporal | Matula, Matthew E. | 20 | 4/9/2004 |
| 363 . | Specialist | Carballo, Adolf C. | 20 | 4/10/2004 |
| 364 . | Airman 1st Class | Holt, Antoine J. | 20 | 4/10/2004 |
| 365 . | Lance Corporal | Zurheide Jr., Robert Paul | 20 | 4/12/2004 |
| 366 . | Specialist | Trevithick, Richard K. | 20 | 4/14/2004 |
| 367 . | Lance Corporal | Van Leuven, Gary F. | 20 | 4/17/2004 |
| 368 . | Private 1st Class | Henson, Clayton Welch | 20 | 4/17/2004 |
| 369 . | Private 1st Class | Harris-Kelly, Leroy | 20 | 4/20/2004 |
| 370 . | Private 1st Class | Edwards, Shawn C. | 20 | 4/23/2004 |
| 371 . | Private 1st Class | Whitaker, Marquis A. | 20 | 4/27/2004 |
| 372 . | Private 1st Class | Reed, Ryan E. | 20 | 4/29/2004 |
| 373 . | Specialist | Kondor, Martin W. | 20 | 4/29/2004 |
| 374 . | Sergeant | Ladd, Joshua S. | 20 | 5/1/2004 |
| 375 . | Corporal | Green, Jeffrey G. | 20 | 5/5/2004 |
| 376 . | Corporal | Schrage, Dustin H. | 20 | 5/6/2004 |
| 377 . | Senior Airman | Espaillat Jr., Pedro I. | 20 | 5/15/2004 |
| 378 . | Specialist | Kasecky, Mark Joseph | 20 | 5/17/2004 |
| 379 . | Private 1st Class | Carey, Michael M. | 20 | 5/18/2004 |
| 380 . | Corporal | Salas, Rudy | 20 | 5/20/2004 |
| 381 . | Private 1st Class | Witt, Owen D. | 20 | 5/24/2004 |
| 382 . | Specialist | Beaulieu, Beau R. | 20 | 5/24/2004 |
| 383 . | Specialist | Wiesemann, Michael J. | 20 | 5/28/2004 |
| 384 . | Private 1st Class | Zimmer, Nicholaus E. | 20 | 5/30/2004 |
| 385 . | Private 1st Class | Johnson, Markus J. | 20 | 6/1/2004 |
| 386 . | Private 1st Class | Caughman, Thomas D. | 20 | 6/9/2004 |
| 387 . | Private 1st Class | Atkins, Shawn M. | 20 | 6/14/2004 |
| 388 . | Specialist | Desens, Daniel A. | 20 | 6/24/2004 |
| 389 . | Lance Corporal | Dougherty, Scott Eugene | 20 | 7/6/2004 |
| 390 . | Private 1st Class | Reed, Christopher J. | 20 | 7/10/2004 |
| 391 . | Private 1st Class | Martinez, Jesse J. | 20 | 7/14/2004 |
| 392 . | Private 1st Class | Persing, Charles C. "C.C." | 20 | 7/19/2004 |
| 393 . | Private 1st Class | Leisten, Ken W. | 20 | 7/28/2004 |
| 394 . | Specialist | Dixon, Anthony J. | 20 | 8/1/2004 |
| 395 . | Specialist | McCune, Donald R. | 20 | 8/5/2004 |
| 396 . | Lance Corporal | Funke, Kane M. | 20 | 8/13/2004 |
| 397 . | Specialist | Titus, Brandon T. | 20 | 8/17/2004 |
| 398 . | Specialist | Ross, Marco D. | 20 | 8/25/2004 |
| 399 . | Lance Corporal | Arredondo, Alexander S. | 20 | 8/25/2004 |
| 400 . | Private 1st Class | Skinner, Nicholas M. | 20 | 8/26/2004 |
| 401 . | Private 1st Class | McCauley, Ryan Michael | 20 | 9/5/2004 |
| 402 . | Lance Corporal | Wilson, Lamont N. | 20 | 9/6/2004 |
| 403 . | Lance Corporal | Gardner, Derek L. | 20 | 9/6/2004 |
| 404 . | Specialist | Aneiros, Yoe M. | 20 | 9/7/2004 |
| 405 . | Specialist | DeLeon Jr., Lauro G. | 20 | 9/8/2004 |
| 406 . | Private 1st Class | Poindexter, Jason T. | 20 | 9/12/2004 |
| 407 . | Lance Corporal | Machado-Olmos, Cesar F. | 20 | 9/13/2004 |
| 408 . | Lance Corporal | Uhles, Drew M. | 20 | 9/15/2004 |
| 409 . | Private 1st Class | Stahl, Nathan E. | 20 | 9/21/2004 |
| 410 . | Lance Corporal | Mateo, Ramon | 20 | 9/24/2004 |
| 411 . | Private 1st Class | Sickels, Kenneth L. | 20 | 9/27/2004 |
| 412 . | Private 1st Class | Titcomb, Joshua K. | 20 | 9/29/2004 |
| 413 . | Specialist | Jacobs, Morgen N. | 20 | 10/7/2004 |
| 414 . | Private 1st Class | Monroe, Anthony W. | 20 | 10/11/2004 |
| 415 . | Lance Corporal | Bow, Jeremy D. | 20 | 10/30/2004 |
| 416 . | Private | Yoemans, Justin R. | 20 | 11/6/2004 |
| 417 . | Lance Corporal | Langley, Sean M. | 20 | 11/7/2004 |
| 418 . | Lance Corporal | Zapp, Thomas J. | 20 | 11/8/2004 |
| 419 . | Lance Corporal | Pickering, Aaron C. | 20 | 11/10/2004 |
| 420 . | Lance Corporal | Burns, Kyle W. | 20 | 11/11/2004 |
| 421 . | Specialist | Doerflinger, Thomas K. | 20 | 11/11/2004 |
| 422 . | Lance Corporal | Reppuhn, Justin D. | 20 | 11/11/2004 |
| 423 . | Lance Corporal | Medina, Brian A. | 20 | 11/12/2004 |
| 424 . | Lance Corporal | Ellsworth, Justin M. | 20 | 11/13/2004 |
| 425 . | Lance Corporal | Payton, George J. | 20 | 11/14/2004 |
| 426 . | Lance Corporal | Swain, James E. | 20 | 11/15/2004 |
| 427 . | Private 1st Class | Hunt, Isaiah R. | 20 | 11/15/2004 |
| 428 . | Lance Corporal | Qualls, Louis W. | 20 | 11/16/2004 |
| 429 . | Corporal | Arms, Bradley Thomas | 20 | 11/19/2004 |
| 430 . | Lance Corporal | Welke, Joseph T. | 20 | 11/20/2004 |
| 431 . | Lance Corporal | Holmes, Jeffery Scott | 20 | 11/25/2004 |
| 432 . | Lance Corporal | Faircloth, Bradley M. | 20 | 11/26/2004 |
| 433 . | Private 1st Class | Meyer, Harrison J. | 20 | 11/26/2004 |
| 434 . | Private 1st Class | Benish, Stephen C. | 20 | 11/28/2004 |
| 435 . | Lance Corporal | Brooks, Adam R. | 20 | 11/28/2004 |
| 436 . | Lance Corporal | Magaoay, Blake A. | 20 | 11/29/2004 |
| 437 . | Specialist | Davis, Daryl A. | 20 | 11/29/2004 |
| 438 . | Corporal | Le, Binh N. | 20 | 12/3/2004 |
| 439 . | Specialist | Mahlenbrock, David P. | 20 | 12/3/2004 |
| 440 . | Private 1st Class | Adlesperger, Christopher S. | 20 | 12/9/2004 |
| 441 . | Sergeant | Ruhren, David A. | 20 | 12/21/2004 |
| 442 . | Sergeant | Mason, Nicholas C. "Nick" | 20 | 12/21/2004 |
| 443 . | Sergeant | Dostie, Thomas John | 20 | 12/21/2004 |
| 444 . | Private 1st Class | Wooten III, Curtis L. | 20 | 1/4/2005 |
| 445 . | Private 1st Class | Vonronn, Kenneth G. | 20 | 1/6/2005 |
| 446 . | Sergeant | Frickey, Armand L. | 20 | 1/6/2005 |
| 447 . | Specialist | McFarlane Jr., Dwayne James | 20 | 1/9/2005 |
| 448 . | Private 1st Class | Leon-Perez, Jesus A. | 20 | 1/24/2005 |
| 449 . | Lance Corporal | Ramos, Hector | 20 | 1/26/2005 |
| 450 . | Lance Corporal | Rairdan, Rhonald Dain | 20 | 1/26/2005 |
| 451 . | Lance Corporal | Ragimov, Mourad | 20 | 1/26/2005 |
| 452 . | Lance Corporal | Maciel, Fred L. | 20 | 1/26/2005 |
| 453 . | Lance Corporal | Linn, Karl R. | 20 | 1/26/2005 |
| 454 . | Sergeant | Ramsey, Christopher J. | 20 | 1/28/2005 |
| 455 . | Lance Corporal | Serrano, Nazario | 20 | 1/30/2005 |
| 456 . | Private 1st Class | Brangman, David J. | 20 | 2/13/2005 |
| 457 . | Private 1st Class | Arciola, Michael A. | 20 | 2/15/2005 |
| 458 . | Sergeant | Trahan, Seth R. | 20 | 2/19/2005 |
| 459 . | Private 1st Class | Henry, Chassan S. | 20 | 2/25/2005 |
| 460 . | Lance Corporal | Torrence, Joshua L. | 20 | 3/14/2005 |
| 461 . | Specialist | Martinez, Francisco G. | 20 | 3/20/2005 |
| 462 . | Lance Corporal | Smith, Kevin S. | 20 | 3/21/2005 |
| 463 . | Corporal | Lopez III, Manuel | 20 | 4/12/2005 |
| 464 . | Corporal | Dickens, Tyler J. | 20 | 4/12/2005 |
| 465 . | Private | Hudson, Aaron M. | 20 | 4/16/2005 |
| 466 . | Private 1st Class | Sirko, Steven F. | 20 | 4/17/2005 |
| 467 . | Private 1st Class | Wessel, Kevin S. K. | 20 | 4/19/2005 |
| 468 . | Private 1st Class | Colburn, Gavin J. | 20 | 4/22/2005 |
| 469 . | Private 1st Class | Deblanc, Darren A. | 20 | 4/29/2005 |
| 470 . | Private 1st Class | Messmer, Nicolas E. | 20 | 5/8/2005 |
| 471 . | Lance Corporal | Mahdee, Marcus | 20 | 5/9/2005 |
| 472 . | Lance Corporal | Prazynski, Taylor B. | 20 | 5/9/2005 |
| 473 . | Lance Corporal | Davids, Wesley G. | 20 | 5/11/2005 |
| 474 . | Private 1st Class | Wallace, Jeffrey R. | 20 | 5/24/2005 |
| 475 . | Private 1st Class | Niedermeier, Louis E. | 20 | 6/1/2005 |
| 476 . | Sergeant | Romines, Brian M. | 20 | 6/6/2005 |
| 477 . | Lance Corporal | Chavez, Daniel | 20 | 6/9/2005 |
| 478 . | Lance Corporal | Castillo, Mario Alberto | 20 | 6/10/2005 |
| 479 . | Private 1st Class | Clemons, Nathan B. | 20 | 6/14/2005 |
| 480 . | Corporal | Valdez, Ramona M. | 20 | 6/23/2005 |
| 481 . | Lance Corporal | Muy, Veashna | 20 | 6/23/2005 |
| 482 . | Specialist | Kaufman, Charles A. | 20 | 6/26/2005 |
| 483 . | Sergeant | Cariaga, Deyson K. | 20 | 7/8/2005 |
| 484 . | Private | Guerra, Ernesto R. | 20 | 7/29/2005 |
| 485 . | Private 1st Class | Scheuerman, Jason D. | 20 | 7/30/2005 |
| 486 . | Lance Corporal | Strain, Adam J. | 20 | 8/3/2005 |
| 487 . | Lance Corporal | Bloem, Nicholas William B. | 20 | 8/3/2005 |
| 488 . | Private 1st Class | Reyna, Seferino J. | 20 | 8/7/2005 |
| 489 . | Private 1st Class | Seamans, Timothy J. | 20 | 8/18/2005 |
| 490 . | Corporal | Williams, Jeffrey A. | 20 | 9/5/2005 |
| 491 . | Hospitalman | Martens, Robert N. | 20 | 9/6/2005 |
| 492 . | Specialist | Ford IV, David H. | 20 | 9/16/2005 |
| 493 . | Specialist | Wendling, Michael J. | 20 | 9/26/2005 |
| 494 . | Specialist | Wiegand, Lee A. | 20 | 9/28/2005 |
| 495 . | Lance Corporal | Raines II, Carl L. | 20 | 10/6/2005 |
| 496 . | Lance Corporal | McVicker, Daniel M. | 20 | 10/6/2005 |
| 497 . | Lance Corporal | Kenny, Patrick Brian | 20 | 10/6/2005 |
| 498 . | Corporal | Robinson, Jeremiah W. | 20 | 10/6/2005 |
| 499 . | Sergeant | Hodge, Jeremy M. | 20 | 10/10/2005 |
| 500 . | Sergeant | Tucker, Robert W. | 20 | 10/13/2005 |
| 501 . | Corporal | Boswell, Samuel M. | 20 | 10/14/2005 |
| 502 . | Lance Corporal | Poston, Christopher M. | 20 | 10/17/2005 |
| 503 . | Specialist | Rosario, Jose E. | 20 | 10/19/2005 |
| 504 . | Lance Corporal | Szwydek, Steven W. | 20 | 10/20/2005 |
| 505 . | Private 1st Class | Jutras, Dillon M. | 20 | 10/28/2005 |
| 506 . | Private 1st Class | MacKenzie, Tyler R. | 20 | 11/2/2005 |
| 507 . | Specialist | Ferderer Jr., Dennis J. | 20 | 11/2/2005 |
| 508 . | Lance Corporal | Mendez Ruiz, David A. | 20 | 11/12/2005 |
| 509 . | Lance Corporal | Zubowski, Scott A. | 20 | 11/12/2005 |
| 510 . | Lance Corporal | McCrackin, Christopher M. | 20 | 11/14/2005 |
| 511 . | Private | Paytas, Dylan R. | 20 | 11/16/2005 |
| 512 . | Corporal | Ware, Joshua J. | 20 | 11/16/2005 |
| 513 . | Lance Corporal | Terrazas, Miguel | 20 | 11/19/2005 |
| 514 . | Sergeant | Tull, Gregory L. | 20 | 11/25/2005 |
| 515 . | Corporal | Snyder, Joshua D. | 20 | 11/30/2005 |
| 516 . | Corporal | McElveen, Anthony T. | 20 | 12/1/2005 |
| 517 . | Lance Corporal | Martinez, Robert Alexander | 20 | 12/1/2005 |
| 518 . | Lance Corporal | Holmason, John M. | 20 | 12/1/2005 |
| 519 . | Sergeant | Futrell, Marcus S. | 20 | 12/2/2005 |
| 520 . | Private 1st Class | Siekert, Thomas C. | 20 | 12/6/2005 |
| 521 . | Specialist | Navarro, Peter J. | 20 | 12/13/2005 |
| 522 . | Lance Corporal | Tapia, Samuel | 20 | 12/18/2005 |
| 523 . | Corporal | Cardinal, Anthony O. | 20 | 12/25/2005 |
| 524 . | Specialist | Carver, Dane O. | 20 | 12/26/2005 |
| 525 . | Private | Morberg, Joshua M. | 20 | 12/27/2005 |
| 526 . | Lance Corporal | McCurdy, Ryan S. | 20 | 1/5/2006 |
| 527 . | Specialist | Johnson, Robert T. | 20 | 1/7/2006 |
| 528 . | Lance Corporal | Little, Jason T. | 20 | 1/7/2006 |
| 529 . | Corporal | Watts, Justin J. | 20 | 1/14/2006 |
| 530 . | Lance Corporal | Dewey, Brandon Christopher | 20 | 1/20/2006 |
| 531 . | Lance Corporal | Lopez Lopez, Hugo R. | 20 | 1/27/2006 |
| 532 . | Private 1st Class | Cardelli, Sean T. | 20 | 2/1/2006 |
| 533 . | Lance Corporal | Barnes, Matthew Ron | 20 | 2/14/2006 |
| 534 . | Private 1st Class | Marion, Christopher L. | 20 | 2/22/2006 |
| 535 . | Private 1st Class | Priest, Tina M. | 20 | 3/1/2006 |
| 536 . | Lance Corporal | Snyder, Matthew A. | 20 | 3/3/2006 |
| 537 . | Lance Corporal | Marino (Figueroa), Kristen K. | 20 | 3/12/2006 |
| 538 . | Lance Corporal | Sandoval-Flores, Felipe D. | 20 | 4/2/2006 |
| 539 . | Corporal | Bass, David A. | 20 | 4/2/2006 |
| 540 . | Hospitalman | Padilla Aleman, Geovani | 20 | 4/2/2006 |
| 541 . | Lance Corporal | Kim, Kun Y. | 20 | 4/2/2006 |
| 542 . | Corporal | Procopio, Scott J. | 20 | 4/2/2006 |
| 543 . | Lance Corporal | Taylor, Bryan N. | 20 | 4/6/2006 |
| 544 . | Corporal | Bachar, Salem | 20 | 4/13/2006 |
| 545 . | Lance Corporal | Simons, Aaron William | 20 | 4/24/2006 |
| 546 . | Private 1st Class | Zieske, Benjamin T. | 20 | 5/3/2006 |
| 547 . | Corporal | Bixler, Stephen R. | 20 | 5/4/2006 |
| 548 . | Lance Corporal | Burnett, Jason K. | 20 | 5/11/2006 |
| 549 . | Lance Corporal | James, Richard Z. | 20 | 5/13/2006 |
| 550 . | Private 1st Class | Freund, Steven | 20 | 5/23/2006 |
| 551 . | Lance Corporal | Lucas, Adam | 20 | 5/26/2006 |
| 552 . | Corporal | Garcia, J. Adan | 20 | 5/27/2006 |
| 553 . | Private 1st Class | Tribble, Brett L. | 20 | 6/3/2006 |
| 554 . | Specialist | Santos, Luis D. | 20 | 6/8/2006 |
| 555 . | Corporal | Estrella, Michael A. | 20 | 6/14/2006 |
| 556 . | Corporal | Leon, Christopher D. | 20 | 6/20/2006 |
| 557 . | Lance Corporal | Webb, Brandon J | 20 | 6/20/2006 |
| 558 . | Private 1st Class | Mason, Collin T. | 20 | 7/2/2006 |
| 559 . | Lance Corporal | Cayer, Geofrey R. | 20 | 7/18/2006 |
| 560 . | Private 1st Class | Plowman, Derek J. | 20 | 7/20/2006 |
| 561 . | Sergeant | Ford, Joshua | 20 | 7/31/2006 |
| 562 . | Sergeant | Jopek, Ryan D. | 20 | 8/2/2006 |
| 563 . | Private 1st Class | Kubik, Brian J. | 20 | 8/5/2006 |
| 564 . | Hospitalman | Kenyon, Chadwick Thomas | 20 | 8/20/2006 |
| 565 . | Specialist | Lee, Qixing | 20 | 8/27/2006 |
| 566 . | Private 1st Class | Gunterman, Hannah L. | 20 | 9/4/2006 |
| 567 . | Corporal | Cain, Marcus A. | 20 | 9/14/2006 |
| 568 . | Specialist | Raymond, Jared J. | 20 | 9/19/2006 |
| 569 . | Private | Kavanagh, Eric | 20 | 9/20/2006 |
| 570 . | Specialist | Simmons, Windell J. | 20 | 9/23/2006 |
| 571 . | Lance Corporal | March Jr., Howard S. | 20 | 9/24/2006 |
| 572 . | Lance Corporal | Martinez, Rene | 20 | 9/24/2006 |
| 573 . | Lance Corporal | Chamroeun, James | 20 | 9/28/2006 |
| 574 . | Corporal | Tejeda, Luis E. | 20 | 9/30/2006 |
| 575 . | Sergeant | Sourivong, Kampha B. | 20 | 9/30/2006 |
| 576 . | Specialist | Walker, Kristofer C. | 20 | 10/2/2006 |
| 577 . | Corporal | Rosales, Benjamin S. | 20 | 10/4/2006 |
| 578 . | Specialist | Obourn Jr., George R. | 20 | 10/4/2006 |
| 579 . | Lance Corporal | Hale, John Edward | 20 | 10/6/2006 |
| 580 . | Petty Officer 3rd Class | Napper Jr, Roger Alan | 20 | 10/7/2006 |
| 581 . | Lance Corporal | Johnson, Stephen F. | 20 | 10/8/2006 |
| 582 . | Lance Corporal | Monroe, Jeremy Scott Sandvick | 20 | 10/8/2006 |
| 583 . | Specialist | Fulkerson, Timothy | 20 | 10/8/2006 |
| 584 . | Private 1st Class | Stanton Jr., Kenny F. | 20 | 10/13/2006 |
| 585 . | Lance Corporal | Herzberg, Eric W. | 20 | 10/21/2006 |
| 586 . | Lance Corporal | Elrod, Nathan R. | 20 | 10/21/2006 |
| 587 . | Lance Corporal | Collinsworth, Clifford R. | 20 | 10/21/2006 |
| 588 . | Lance Corporal | Buerstetta, Richard A. | 20 | 10/23/2006 |
| 589 . | Private 1st Class | Chaires, Daniel B. | 20 | 10/25/2006 |
| 590 . | Lance Corporal | Kim, Minhee | 20 | 11/1/2006 |
| 591 . | Private 1st Class | Ellenburg, Kevin J. | 20 | 11/1/2006 |
| 592 . | Lance Corporal | Brown, James | 20 | 11/2/2006 |
| 593 . | Private 1st Class | Kim, Jang H. | 20 | 11/13/2006 |
| 594 . | Private 1st Class | Allman II, Daniel J. | 20 | 11/13/2006 |
| 595 . | Lance Corporal | Davenport, James R. | 20 | 11/22/2006 |
| 596 . | Lance Corporal | West, Jeromy D. | 20 | 11/25/2006 |
| 597 . | Private | Burrows, Joshua C. | 20 | 11/26/2006 |
| 598 . | Lance Corporal | Schwarz, Michael A. | 20 | 11/27/2006 |
| 599 . | Sergeant | Rystad, Corey J. | 20 | 12/2/2006 |
| 600 . | Corporal | Farris, Billy B. | 20 | 12/3/2006 |
| 601 . | Lance Corporal | Echols, Thomas P. | 20 | 12/4/2006 |
| 602 . | Lance Corporal | Yepsen, Luke C. | 20 | 12/14/2006 |
| 603 . | Corporal | Pickard, Joshua D. | 20 | 12/19/2006 |
| 604 . | Private | Mejia II, Bobby | 20 | 12/23/2006 |
| 605 . | Private | McCormick, Clinton T. | 20 | 12/27/2006 |
| 606 . | Lance Corporal | Miller, Nicholas A. | 20 | 12/28/2006 |
| 607 . | Lance Corporal | Spencer, William D. | 20 | 12/28/2006 |
| 608 . | Private 1st Class | Newgard, William R. | 20 | 12/29/2006 |
| 609 . | Corporal | Schiller, Jonathan E. | 20 | 12/31/2006 |
| 610 . | Corporal | Smith, Richard A. | 20 | 12/31/2006 |
| 611 . | Private 1st Class | Sun, Ming | 20 | 1/9/2007 |
| 612 . | Lance Corporal | Castillo, Luis J. | 20 | 1/19/2007 |
| 613 . | Private 1st Class | Hill, Ryan J. | 20 | 1/20/2007 |
| 614 . | Private 1st Class | Millican, Jonathan | 20 | 1/20/2007 |
| 615 . | Lance Corporal | Sanchez, Emilian D. | 20 | 1/21/2007 |
| 616 . | Lance Corporal | Melia, Anthony C. | 20 | 1/27/2007 |
| 617 . | Specialist | McPeek, Alan E. | 20 | 2/2/2007 |
| 618 . | Sergeant | Matheny, Randy J. | 20 | 2/4/2007 |
| 619 . | Lance Corporal | Van Parys, Brandon J. | 20 | 2/5/2007 |
| 620 . | Private 1st Class | Browning, Brian A. | 20 | 2/6/2007 |
| 621 . | Corporal | Parcell, Jennifer M. | 20 | 2/7/2007 |
| 622 . | Specialist | Sellen Jr., Dennis L. | 20 | 2/11/2007 |
| 623 . | Private 1st Class | Cummings, Branden C. | 20 | 2/14/2007 |
| 624 . | Private 1st Class | Marsh, Chad E. | 20 | 2/17/2007 |
| 625 . | Lance Corporal | Howey, Blake H. | 20 | 2/18/2007 |
| 626 . | Private 1st Class | Witteveen, Brett | 20 | 2/19/2007 |
| 627 . | Lance Corporal | Aguirre, Anthony | 20 | 2/26/2007 |
| 628 . | Specialist | Young, Christopher D. | 20 | 3/2/2007 |
| 629 . | Specialist | Russell, Ryan D. | 20 | 3/5/2007 |
| 630 . | Lance Corporal | Veater, Dennis J. | 20 | 3/9/2007 |
| 631 . | Lance Corporal | Windsor, Nathanial Dain | 20 | 3/11/2007 |
| 632 . | Lance Corporal | Chavez, Steven M. | 20 | 3/14/2007 |
| 633 . | Lance Corporal | Timberman, Harry H. | 20 | 3/17/2007 |
| 634 . | Private 1st Class | Landry Jr., John F. | 20 | 3/17/2007 |
| 635 . | Corporal | Lee, Dustin Jerome | 20 | 3/21/2007 |
| 636 . | Specialist | Flores Jr., Wilfred | 20 | 3/31/2007 |
| 637 . | Lance Corporal | Olsen, Daniel R. | 20 | 4/2/2007 |
| 638 . | Private 1st Class | Figueroa, Gabriel J. | 20 | 4/3/2007 |
| 639 . | Private 1st Class | Gibson, Derek A. | 20 | 4/4/2007 |
| 640 . | Private 1st Class | Freeman Jr., Walter | 20 | 4/4/2007 |
| 641 . | Private 1st Class | Cajimat, Jay S. | 20 | 4/6/2007 |
| 642 . | Private 1st Class | Simmons, David N. | 20 | 4/8/2007 |
| 643 . | Private 1st Class | Holden, Brian Lee | 20 | 4/9/2007 |
| 644 . | Specialist | Lindsey, James T. | 20 | 4/12/2007 |
| 645 . | Lance Corporal | Scherry, Daniel R. | 20 | 4/16/2007 |
| 646 . | Private 1st Class | Morales, Jason M. | 20 | 4/18/2007 |
| 647 . | Lance Corporal | Peterson, Dale G. | 20 | 4/23/2007 |
| 648 . | Specialist | Rodriguez, Michael J. | 20 | 4/23/2007 |
| 649 . | Sergeant | Vaughan, Michael L. | 20 | 4/23/2007 |
| 650 . | Private 1st Class | Kirkpatrick, David Austin | 20 | 4/27/2007 |
| 651 . | Private 1st Class | Gullett, Zachary R. | 20 | 5/1/2007 |
| 652 . | Specialist | Sunsin-Pineda, Astor A. | 20 | 5/2/2007 |
| 653 . | Specialist | Little, Kyle A. | 20 | 5/8/2007 |
| 654 . | Lance Corporal | O'Haire, Walter K. | 20 | 5/9/2007 |
| 655 . | Private 1st Class | Farrar Jr., William A. | 20 | 5/11/2007 |
| 656 . | Specialist | Klasno, Rhys W. | 20 | 5/13/2007 |
| 657 . | Private 1st Class | Hartge, Nicholas S. | 20 | 5/14/2007 |
| 658 . | Private 1st Class | Hamm, Jonathan V. | 20 | 5/17/2007 |
| 659 . | Specialist | Behrle, David W. | 20 | 5/19/2007 |
| 660 . | Private 1st Class | Haslip, Travis F. | 20 | 5/19/2007 |
| 661 . | Corporal | Collins, Ryan D. | 20 | 5/19/2007 |
| 662 . | Private 1st Class | Anzack Jr., Joseph J. | 20 | 5/23/2007 |
| 663 . | Private 1st Class | Dembowski, Robert H. | 20 | 5/24/2007 |
| 664 . | Lance Corporal | Lindsey, David Paul | 20 | 5/25/2007 |
| 665 . | Specialist | Jaurigue, Michael J. | 20 | 5/26/2007 |
| 666 . | Private 1st Class | Sanchez, Junior Cedeno | 20 | 5/28/2007 |
| 667 . | Private 1st Class | Moore, Joshua M. | 20 | 5/30/2007 |
| 668 . | Specialist | Lundin, James E. | 20 | 5/30/2007 |
| 669 . | Private 1st Class | Baylis, Matthew E. | 20 | 5/31/2007 |
| 670 . | Private 1st Class | Verdeja, Justin A. | 20 | 6/5/2007 |
| 671 . | Airman 1st Class | Barnes, Eric M. | 20 | 6/9/2007 |
| 672 . | Private | Miller, Scott A. | 20 | 6/9/2007 |
| 673 . | Private 1st Class | Carriker, Casey S. | 20 | 6/13/2007 |
| 674 . | Private 1st Class | Tracy, Jacob T. | 20 | 6/18/2007 |
| 675 . | Private 1st Class | Bentz III, David J. | 20 | 6/20/2007 |
| 676 . | Specialist | Kenny, Joseph P. | 20 | 6/23/2007 |
| 677 . | Private 1st Class | Byrd III, Henry G. | 20 | 6/24/2007 |
| 678 . | Corporal | Dixon, Derek C. | 20 | 6/26/2007 |
| 679 . | Private 1st Class | Hiltz, Cory F. | 20 | 6/28/2007 |
| 680 . | Lance Corporal | Tinnel, Jeremy L. | 20 | 7/1/2007 |
| 681 . | Lance Corporal | Chambers, William C. | 20 | 7/1/2007 |
| 682 . | Lance Corporal | Schill, Juan M. Garcia | 20 | 7/1/2007 |
| 683 . | Private 1st Class | Rossi, Jonathan M. | 20 | 7/1/2007 |
| 684 . | Corporal | Wiens, Kory D. | 20 | 7/6/2007 |
| 685 . | Lance Corporal | Starkovich, Shawn V. | 20 | 7/16/2007 |
| 686 . | Private 1st Class | Bobb, Brandon K. | 20 | 7/17/2007 |
| 687 . | Lance Corporal | Twitty, Bobby L. | 20 | 7/22/2007 |
| 688 . | Specialist | Florexil, Camy | 20 | 7/24/2007 |
| 689 . | Lance Corporal | Lynch, Robert A. | 20 | 7/24/2007 |
| 690 . | Private 1st Class | Grater, Cody C. | 20 | 7/29/2007 |
| 691 . | Lance Corporal | Vasquez, Cristian | 20 | 8/2/2007 |
| 692 . | Specialist | Khan, Kareem R. | 20 | 8/6/2007 |
| 693 . | Specialist | Howells, Alun R. | 20 | 8/13/2007 |
| 694 . | Private 1st Class | Hensel, Shawn D. | 20 | 8/14/2007 |
| 695 . | Specialist | Block, Kamisha J. | 20 | 8/16/2007 |
| 696 . | Private 1st Class | Witham, Donovan D. | 20 | 8/21/2007 |
| 697 . | Private 1st Class | Torres, Omar E. | 20 | 8/22/2007 |
| 698 . | Specialist | Seideman, Tyler R. | 20 | 8/22/2007 |
| 699 . | Corporal | Harmon, Joshua S. | 20 | 8/22/2007 |
| 700 . | Specialist | Johnson, Rodney J. | 20 | 9/4/2007 |
| 701 . | Specialist | Lane, David J. | 20 | 9/4/2007 |
| 702 . | Specialist | Hilbert, Thomas L. | 20 | 9/7/2007 |
| 703 . | Lance Corporal | Hicks Jr., Jon T. | 20 | 9/10/2007 |
| 704 . | Specialist | Elrod, Steven R. | 20 | 9/10/2007 |
| 705 . | Specialist | Emerson, Matthew J. | 20 | 9/18/2007 |
| 706 . | Not reported yet | Cady III, Frank L. | 20 | 10/10/2007 |
| 707 . | Specialist | Brown, Micheal D. | 20 | 10/16/2007 |
| 708 . | Seaman | Camacho, Anamarie Sannicolas | 20 | 10/22/2007 |
| 709 . | Private 1st Class | Covert Jr., Dwane A. | 20 | 11/3/2007 |
| 710 . | Specialist | Sietsema, Ashley | 20 | 11/12/2007 |
| 711 . | Specialist | Gudridge, James D. | 20 | 1/6/2008 |
| 712 . | Private 1st Class | Pannier, Phillip J. | 20 | 1/8/2008 |
| 713 . | Sergeant | McBride, Zachary W. | 20 | 1/9/2008 |
| 714 . | Lance Corporal | Gluff, James M. | 20 | 1/19/2008 |
| 715 . | Sergeant | Sturdivant, Michael R. | 20 | 1/22/2008 |
| 716 . | Private 1st Class | Meyer, Brandon A. | 20 | 1/28/2008 |
| 717 . | Corporal | Bitton, Albert | 20 | 2/20/2008 |
| 718 . | Lance Corporal | Weaver, Drew W. | 20 | 2/21/2008 |
| 719 . | Sergeant | Maupin, Keith M. | 20 | 3/21/2008 |
| 720 . | Specialist | Molina, Joshua A. | 20 | 3/27/2008 |
| 721 . | Specialist | Christofferson, Steven J. | 20 | 4/21/2008 |
| 722 . | Specialist | Jaenichen, Mary J. | 20 | 5/9/2008 |
| 723 . | Corporal | Cotner, Christian S. | 20 | 5/30/2008 |
| 724 . | Specialist | Emard, Jonathan D. A. | 20 | 6/4/2008 |
| 725 . | Specialist | Plocica, Joshua L. | 20 | 6/25/2008 |
| 726 . | Specialist | Taylor, Joel A. | 20 | 6/25/2008 |
| 727 . | Lance Corporal | Stevenson, Jeffery S. | 20 | 7/13/2008 |
| 728 . | Lance Corporal | Stottlemyer, Travis M. | 20 | 8/17/2008 |
| 729 . | Specialist | Gonzalez, Michael L. | 20 | 8/28/2008 |
| 730 . | Specialist | Gonzales, Tony J. | 20 | 12/28/2008 |
| 731 . | Private 1st Class | Lotter, Christopher W. | 20 | 12/31/2008 |
| 732 . | Private | McCune, Sean P. | 20 | 1/11/2009 |
| 733 . | Private 1st Class | Turner, Ricky L. | 20 | 1/16/2009 |
| 734 . | Lance Corporal | Lantigua, Nelson M. | 20 | 3/31/2009 |
| 735 . | Corporal | Pautsch, Jason G. | 20 | 4/10/2009 |
| 736 . | Lance Corporal | Spencer II, Ray A. | 20 | 4/16/2009 |
| 737 . | Specialist | Barton, Jacob D. | 20 | 5/11/2009 |
| 738 . | Specialist | Edmundson, Chad A. | 20 | 5/27/2009 |
| 739 . | Private | Lee, Thomas E. | 20 | 5/29/2009 |
| 740 . | Private 1st Class | Stone, Samuel D. | 20 | 5/30/2009 |
| 741 . | Specialist | Wertish, James D. | 20 | 7/16/2009 |
| 742 . | Lance Corporal | Lara, Brandon T. | 20 | 7/19/2009 |
| 743 . | Private 1st Class | Lyons, Thomas F. | 20 | 9/8/2009 |
| 744 . | Specialist | Cote Jr., Michael S. | 20 | 9/19/2009 |
| 745 . | Private 1st Class | Hopper, Lukas C. | 20 | 10/30/2009 |
| 746 . | Specialist | Anderson, Brushaun X. | 20 | 1/1/2010 |
| 747 . | Private 1st Class | Jarrett, Michael R. | 20 | 1/6/2010 |
| 748 . | Private 1st Class | Alvarez, Adriana | 20 | 2/10/2010 |
| 749 . | Specialist | Dohrenwend, Jacob P. | 20 | 6/21/2010 |
| 750 . | Specialist | Carrillo Jr., John | 20 | 9/24/2010 |
| 751 . | Airman | Johnson, Christoffer P. | 20 | 2/17/2011 |
| 752 . | Specialist | Nelson III, Gary L. | 20 | 4/4/2011 |