#16tovote on the 16th is a monthly 24-hour event on Twitter to raise awareness of lowering the voting age. It begins at midnight Eastern time on the 16th of the month and continues until the following midnight. During this time, participants tweet facts, reasons, anecdotes, and links to blogs, videos, articles, and other stuff about and in support of lowering the voting age. A participant may either post his/her own information about lowering the voting age, and/or retweet what another says. All of these voting age tweets must include the hashtag "#16tovote". To participate, also be sure to follow NYRA on Twitter.
The idea behind this event is to let more and more people know of our cause to get the voting age lowered, as well as to encourage supporters to speak up. So if you are on Twitter, please participate and help us spread the word far and wide! Follow NYRA and tweet and retweet some #16tovote tweets!
To get an idea of what kind of things people tweet about on this event, check out the recaps of previous months' events below. Another tip is to imagine you're at a voting age protest, and just tweet what your sign would say!
Previous Runs of #16tovote on the 16th: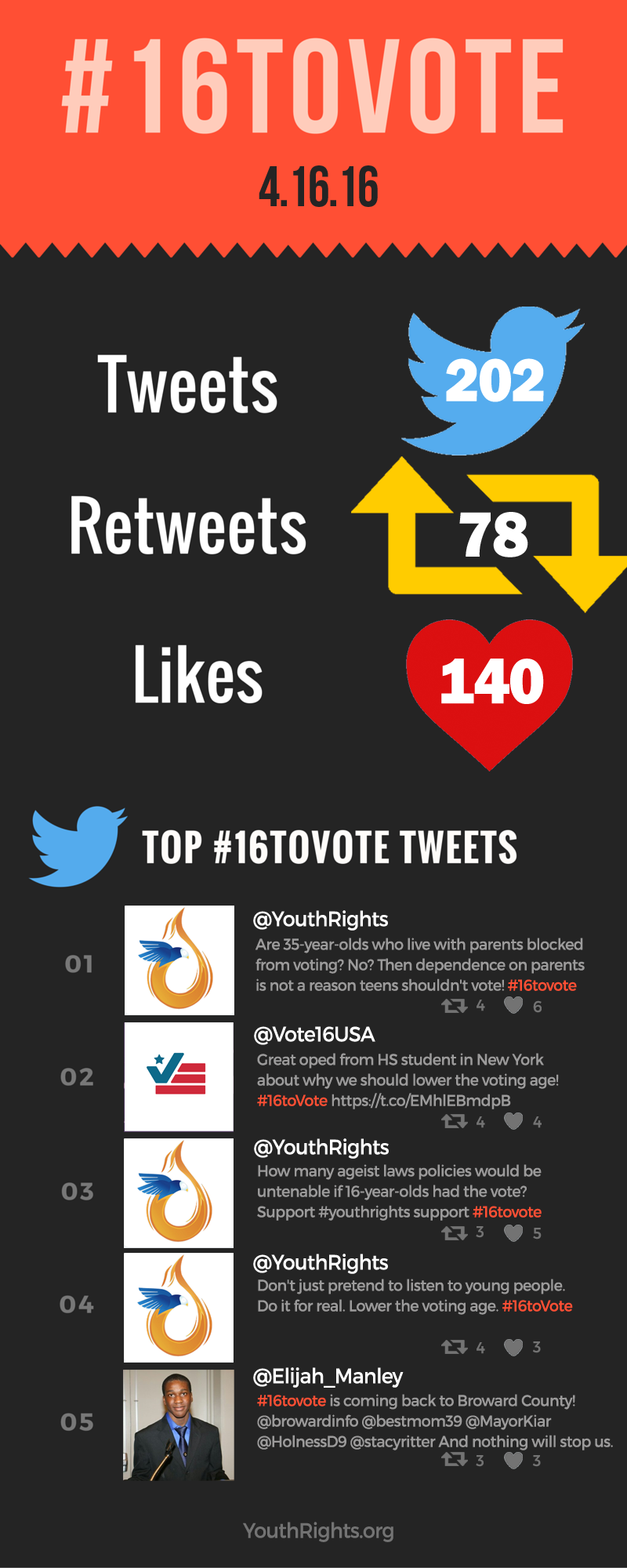 #16tovote on the 16th – February 2010
#16tovote on the 16th – March 2010
#16tovote on the 16th – April 2010
#16tovote on the 16th – May 2010
#16tovote on the 16th – June 2010
#16tovote on the 16th – July 2010
#16tovote on the 16th – August 2010
#16tovote on the 16th – September 2010
#16tovote on the 16th – October 2010
#16tovote on the 16th – November 2010
#16tovote on the 16th – December 2010
#16tovote on the 16th – January 2011
#16tovote on the 16th – February 2011
#16tovote on the 16th – March 2011
#16tovote on the 16th – April 2011
#16tovote on the 16th – May 2011
#16tovote on the 16th – June 2011
#16tovote on the 16th – July 2011
#16tovote on the 16th – August 2011
#16tovote on the 16th – September 2011
#16tovote on the 16th – October 2011
#16tovote on the 16th – November 2011
#16tovote on the 16th – December 2015
#16tovote on the 16th – January 2016
#16tovote on the 16th – February 2016
#16tovote on the 16th – April 2016